"Even if I knew that tomorrow the world would go to pieces, I would still plant my apple tree." – Martin Luther King
Since the beginning of recorded time, apples have been one of mankind's favorite fruits. What makes apples so appealing are the numerous varieties available to fit any person's taste buds and the fact that, unlike many other fruits, apples can be grown in so many regions of the world.
Growing Apple Trees
Apples are adaptable to various climates, but they are best adapted to the cool temperate zones from about 35º-50º latitude. They have a more northerly range than many other tree fruits due to relatively late blooming and extreme cold hardiness.
In fact, most apple trees actually need 1000-1600 hours of temperatures between 32ºF (0ºC) and 45ºF (7ºC), called the "chilling requirement", to break dormancy and begin to bud the following spring.
Growing apple trees in areas that fall outside of that range is possible, but it requires purchasing special trees with a low chilling requirement.
Additional care may be necessary to keep those trees alive and fertile. In the colder regions, winterkill of trees due to extreme or sudden cold is of primary concern, but steps can be taken to reduce damage.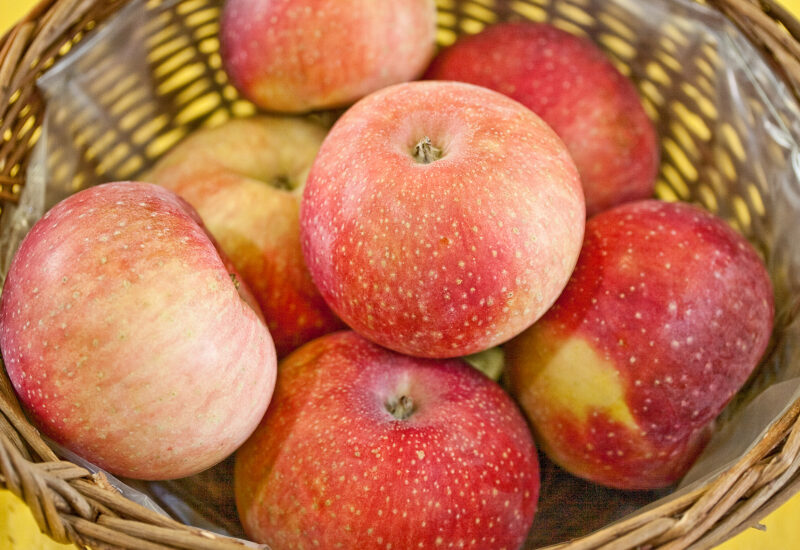 Apple trees are not grown from seed. In order to grow a specific named variety, trees must be vegetatively propagated by a process known as grafting.
These grafts consist of two parts, the scion (which becomes the fruit-bearing top of the tree) and the rootstock (which becomes the roots of the tree).
Grafting takes these two separate parts and grows them together so as to function as a single plant. The rootstock influences the size and hardiness of the tree, while the scion determines what kind of fruit the tree will yield.
Both parts must be hardy enough to withstand the lowest winter temperatures that the planting zone is likely to experience.
There are numerous types of rootstocks developed to accommodate differing growing areas. Most of the rootstocks will grow with success if one resides within an area meeting the 1000-1600 chilling hours guideline.
But for the colder zones, the use of dwarf or semi-dwarf rootstocks should be avoided. These rootstocks produce smaller trees with shallower roots that are much more susceptible to extreme cold temperatures.
Rootstocks such as Antonovka, Siberian Crab, and Ranteka work well in colder climates, with the latter two being more recommended for extreme cold, even down to -40ºF (-40ºC).
There are numerous nurseries throughout the country, many available on the internet, that cater to northern growers and who grow their trees using these types of rootstock.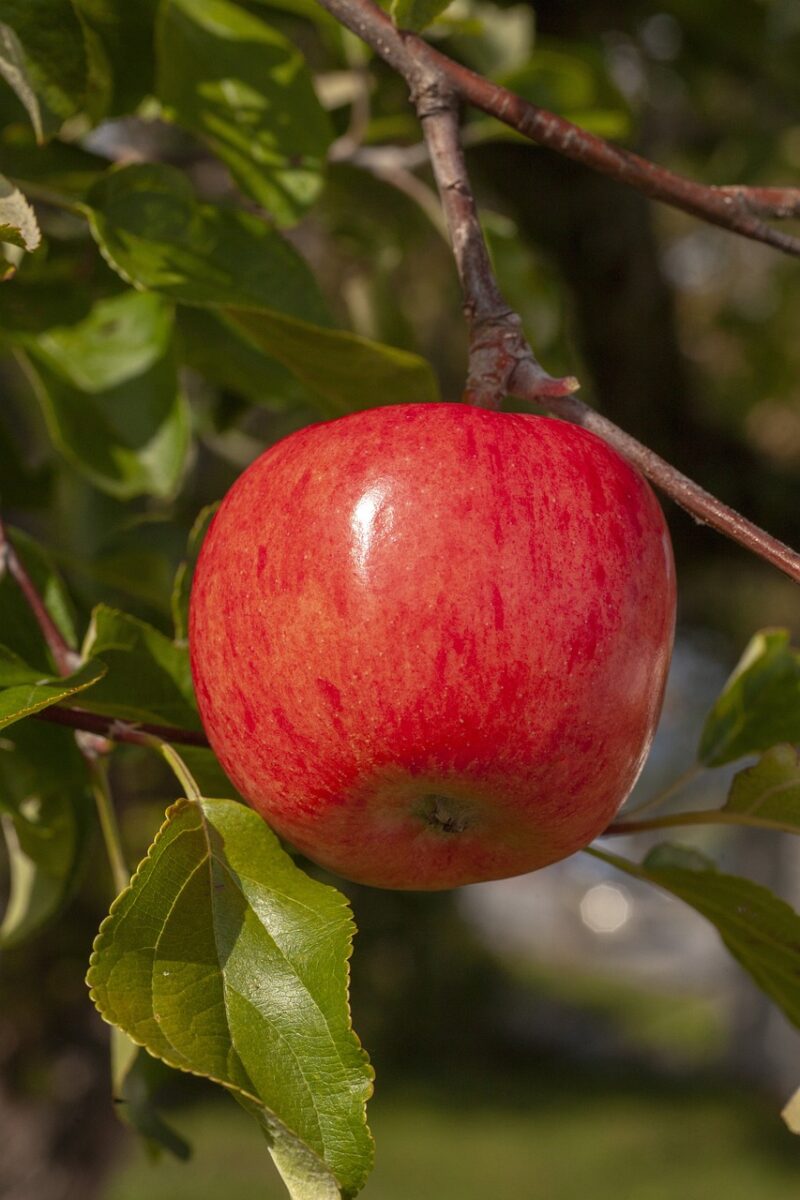 The variety of apples you choose is at least as important as your choice of rootstock. Contact your local agricultural extension service or check in the Northscaping Landscape Plant Search for varieties that would work best in your growing region.
All parts of the North have many years of experience with growing apples, and it pays to become familiar with what has been successful in your particular region.
---
Read Also:
---
The exception is with new varieties. You may be among the first in your area to try something new (somebody has to be first!), but here are a few hints to consider when trying new varieties:
Avoid varieties that require a longer growing season than your area can provide. You may get a couple of years' worth of production before the trees expire, but the apples will not mature. It's a long, disappointing process.
Avoid varieties with non-hardy parents such as Red Delicious or Golden Delicious. Very few crosses of these varieties result in hardy offspring.
Try varieties that are promoted as very hardy or as intended for northern areas.
Once you've purchased your apple tree, it does take a little more planting care to grow it in a northern climate. Again, here are some tips:
Plant trees in light, fertile, well-drained soils.
Avoid planting trees in low-lying areas as this greatly increases the likelihood of winter damage. There are two reasons for this: first, retained water may cause trees to grow too late in the season instead of hardening off for the winter; and second, low areas are colder than high areas (or slopes) on the coldest nights because cold air is heavier and collects in low pockets.
Trees prefer to be grown on a south-facing slope, with some wind protection. Windbreaks are highly recommended for colder climates if your growing area is not set up with a natural barrier.
It is critical for blossom and fruit production that apple trees have full sunlight. Growing them in the shade of buildings or trees is the most frequent reason for failure to fruit.
A final planting consideration is the need for a second tree with a similar blooming schedule to provide cross-pollination.
This is not a concern in most metropolitan areas, because there is usually a neighbor within two miles who has an apple or flowering crab tree (two miles being the flying range of bees, who do the pollinating).
If you're out in the country, you still may have neighbors within that distance, and it's rare to find a farmstead without an apple tree.
But if you believe there aren't any apple trees within a couple of miles, it becomes imperative that you plant another (or better, several) to assure the availability of pollen.
Be aware that very, very few apple varieties can pollinate another of the same variety, so you must select different varieties as pollen sources.
Apple Tree Care
While proper watering and fertilization are imperative to maintaining healthy trees, those that go into the colder months with minimal growth activity have a better chance of surviving the winter as well.
Watering should therefore be done less frequently as the summer months go on, especially after the first of August. In the more northern regions, all artificial watering should stop by the end of August.
If rains are sparse during September and October, give the roots a thorough soaking after the leaves have fallen and just before freezing up.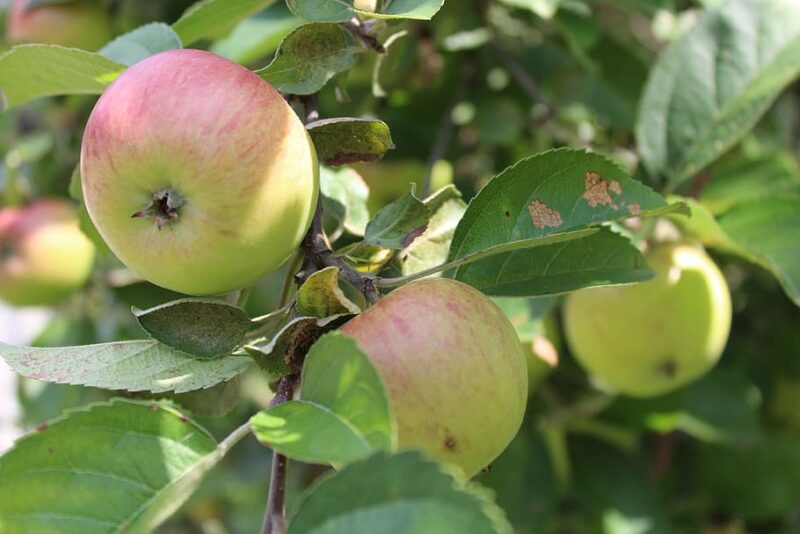 Fertilizers with a large percentage of nitrogen stimulate growth in woody plants, and if applied too late in the season can reduce the winter hardiness of the tree.
On the other hand, those with higher levels of potassium and phosphorus tend to increase hardiness. Like watering, as the growing season winds down, fertilization should be reduced or stopped altogether.
While a properly selected tree in good health will be in good shape to face the demands of colder climates, there are a few other things one can do to help increase the odds of surviving the winter months:
Roots are less hardy than the shoots and may need a thick covering of mulch, especially in the event of a severe winter with little or no snow cover.
It is highly recommended you use plastic or hardware cloth trunk guards if you do mulch your trees, as the layer of mulch could become home to mice or other rodents which would love to eat away the bark and wood at the base of the tree (called "girdling," to which young trees are most susceptible and which kills the tree if the entire circumference of the trunk is chewed).
Winter sunscald is a condition which, in the Northern Hemisphere, occurs on the southwest side of the trunk and is caused by sunny, warm, late-winter days when snow cover is present and reflects the sun's rays, thus "doubling" the exposure and heating the trunk before the sun goes down and, since the sky is clear, the temperature drops rapidly, freezing and bursting the cells in the cambium layers.
Younger trees can be protected from winter sunscald by using white plastic trunk guards, by wrapping the tree base in burlap, or even by painting the base with latex paint to reflect the sun's rays.
Prune your trees regularly, being especially cognizant of areas where branches protrude off at narrow angles to the trunk. These areas are more susceptible to crotch injury and should be pruned off or widened using branch spreaders.
Fruit thinning after bloom time enhances tree survival, as the energy spent on growing the fruit cannot also be spent on the tree and its roots. Moderate, as opposed to excessive, crops are desirable in all growing areas, but especially in colder zones.
Trees harvested late in the season or not harvested at all are more vulnerable to winter damage because they continue to drain carbohydrates that would otherwise be retained as virtual "anti-freeze."
Potential Pitfalls
Despite all your best efforts, Mother Nature can make all your hard work fruitless (pardon the pun). Colder than normal temperatures with little snow and excessive winds can kill off even the healthiest of trees.
And, unfortunately, fruit trees may make it through the cold of winter only to have crops reduced by a late spring frost.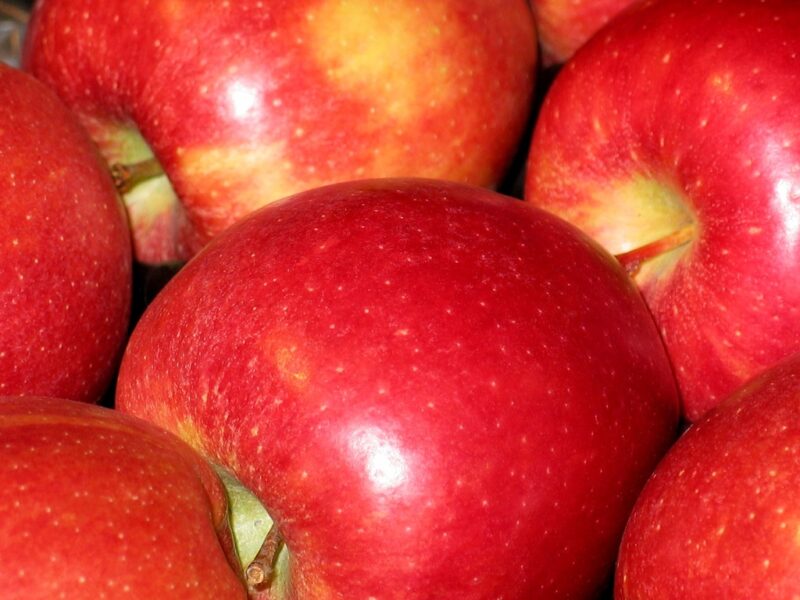 As the temperature warms and apple trees start to spring to life, the newly formed buds and blossoms become susceptible to damage from below-freezing temperatures.
In the first stage of bud development, called the silver tip and green tip stages, temperatures around 16ºF (-9ºC) and lower will result in some degree of crop damage.
As the bud expands to its half-inch green stage, temperatures cannot fall below 22ºF (-6ºC) without damage. Finally, as the bud develops into various stages of bloom, any temperature below the 27º to 29ºF (-2º to -3ºC) range will result in loss of fruit.
(Please note that the temperatures as listed do vary by region and are an approximation of levels that will produce damage.)
Unfortunately, crop loss from temperatures far below these levels cannot be prevented. For those nights when the temperature drops close to these levels sprinkling the trees with water or use of wind machines throughout your trees can help reduce some of the damage.
Despite their best efforts, contributors to this article have lost many thousands of apple trees due to winter damage.
Growing apple trees takes proper planning, proper soil, and proper gardening care – especially if you live in the colder growing zones.
But, despite the hard work, it's all worth it the moment you take a bite from that first fresh apple of the season. If it weren't, apples may not have survived to be a part of our lives, literature, and heritage.