When it comes to designing a garden, what is it that separates the cream of the crop from the less remarkable gardens? We are familiar with applying the key attributes of color, form, and texture to create an interesting composition, and yet that doesn't quite seem to fully capture it.
Interest is one thing, but properly organizing that interest is fundamental to effective composition, and the best gardens are well organized in all three dimensions.
That's right, there are three dimensions to a good garden composition, and it's the third dimension of the vertical that is so often overlooked. The finest gardens have a clearly planned structure in the vertical dimension that follows some simple guidelines.
There's really no mystery behind it; just a little common sense and knowledge will help you create gardens that make optimal use of all of the available space.
Taking It To The Vertical
Why do we need to consider the vertical component in garden design? Besides the fact that we exist in a universe where we perceive three dimensions of space and the fact that the plants in our gardens occupy all of three of them, there are actually distinct benefits to the vertical.
For one thing, it creates a silhouette or skyline that adds a flow and dynamic to the composition. It takes advantage of our perception of depth, making some gardens feel deep and expansive, and others narrow and immediate.
Height brings plants that are farther away from us into our field of view and can create a sense of enclosure to bind and complete our compositions.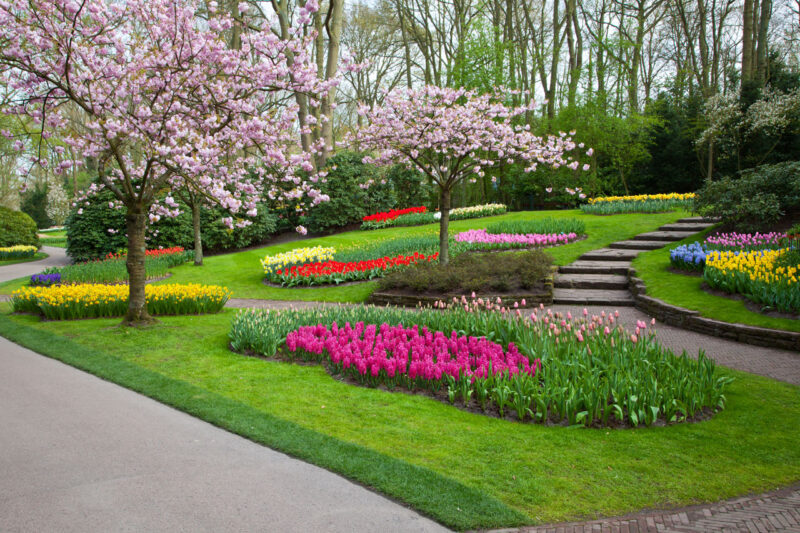 So our garden plants have height, and clearly, the arrangement of these plants in a garden by height is important. But why tiers?
In fact, what are tiers? A tier is simply a collection of plants of a specific height, usually arranged in a row or a wave across the field of view.
Therefore tiers are a grouping of different rows or waves of different heights. A garden composed of tiers creates plateaus with perceptible stepwise increments in height.
You can really appreciate the notion by looking at the extremes. A garden consisting of a single uniform plant height has maximum order and impact but has the least opportunity for interest in the vertical dimension.
On the other hand, a garden composed of plants with totally random heights has too much interest, so much so that it becomes confusing.
And a garden that has a definite slope in height but without clearly delineated tiers lacks definition and order – it's just a blur.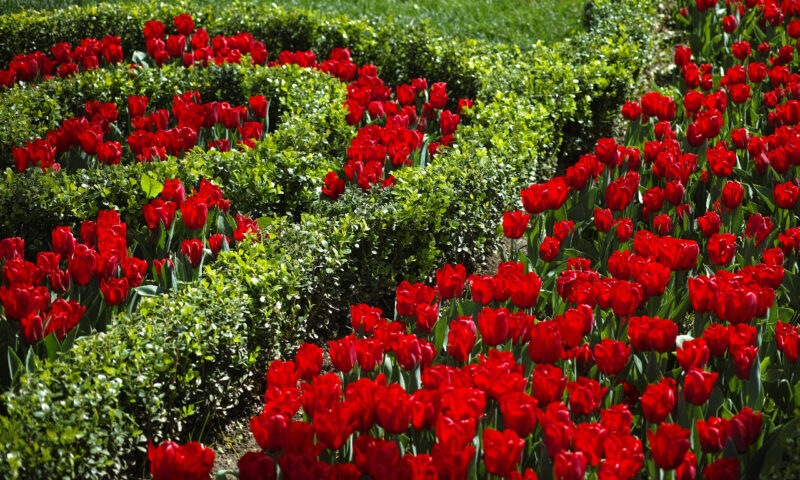 In fact, order is the key, and it's an attribute of us humans rather than our gardens! You see, our eyes are designed to look for order and organization in a composition and to extract it from an otherwise chaotic scene.
We see distinctive tiers and rows as orderly, and they are the first thing we subconsciously identify in a garden, even before we see color.
We then incorporate them into our overall opinion of the interest or effectiveness of a composition along with other attributes such as color, texture, and form.
When viewing a garden, the observer's eye first sees the masses of plants as a single entity before it sees individual flowers that comprise the masses – this is "The Garden".
Then it looks for a way to subdivide the garden into orderly subsections or categories. If there are discrete tiers, it will immediately lock onto this structure, and only then start examining the elements of interest within.
So tiers give us what we humans are designed to want to see in a garden; a sense of order to the composition, a framework against which we can evaluate the colors and forms, and textures.
That's why the most visually pleasing gardens are those in which the order in the vertical dimension has been carefully conceived and executed. And now you know!
---
Read Also:
---
Structure, Scale, And Dimensions
The first thing to appreciate when organizing a garden by tiers is incredibly obvious, but bears stating nonetheless.
Gardens are designed to be viewed and enjoyed by people, therefore the key to an effective composition is to design from the perspective of the viewer.
As such, the plant heights should always slope towards the viewer, with the lowest plants nearest the viewer, and the largest plants farthest away. I told you it was obvious!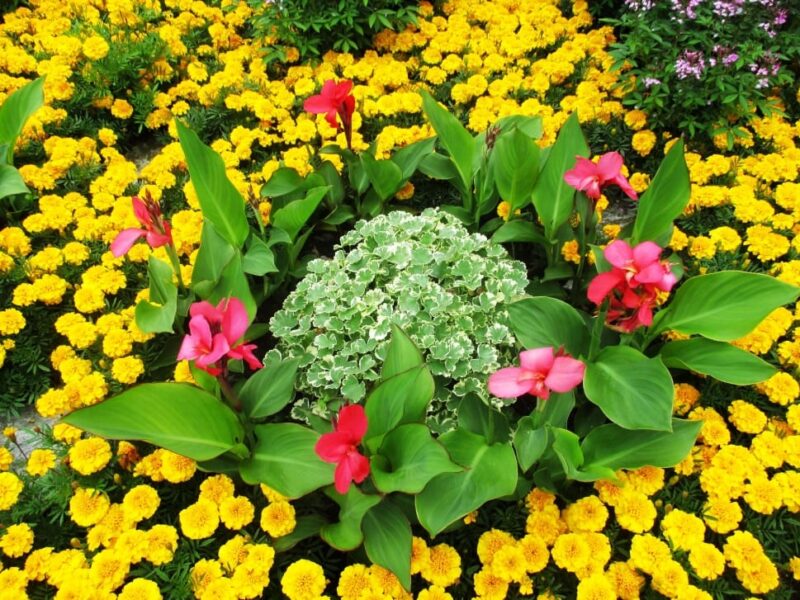 But that's actually an oversimplification because there are specific circumstances where this is in fact not the right advice.
Here's where we need to examine two very different kinds of gardens; island gardens and borders. Borders generally back up against something, for example, a fence, a house foundation, or a wall.
With these gardens, the organization is clear; the shortest plants are nearest the viewer, and the tallest plants are up against the structure being bordered.
Slight deviations are permitted to instill a little dynamic interest, but generally speaking, height always increases moving away from the viewer.
Island gardens on the other hand are designed to be free-standing in the yard and viewed from all sides.
As such, they have a maximum height at the center of the garden, and as a rule, there is a portion of the garden behind the peak from the perspective of the viewer which cannot be seen until the viewer moves to a different vantage point.
Of course, there are hybrids of the two, and the rules are adjusted accordingly for these, but the key to the organization of the tiers then becomes a preferred viewing perspective.
Probably the most important consideration when designing a garden in the vertical dimension is the depth of the garden.
Depth is defined as the distance between the front and back of the garden along the viewer's line of sight. The key here is scale; a deep garden should have more tiers, while a narrow garden should have fewer.
Too many tiers in a narrow garden will lose the delineation, and too few in a large garden will start to appear expansive and overbearing.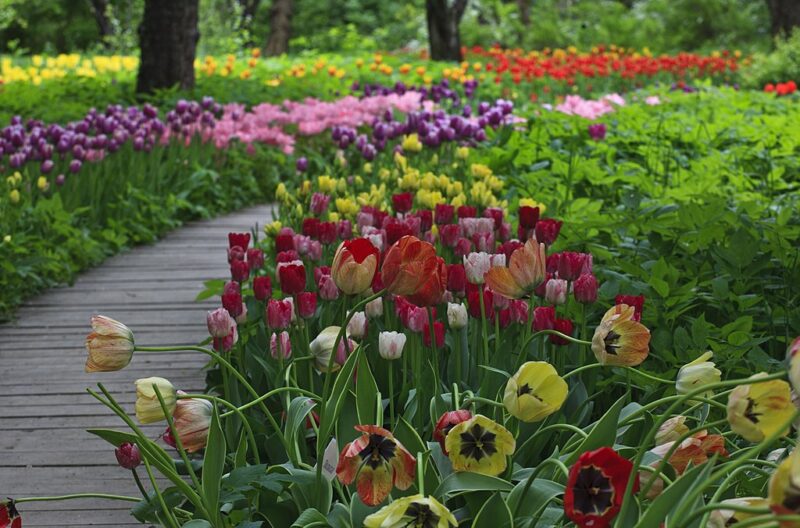 Another important consideration of scale is the absolute height of the garden. As a rule of thumb, absolute height should be based on the relative distance between the viewer and the garden.
If it is intended to be seen from a distance, for example from the road, it needs to be adequately tall at its highest.
If it's intended to be viewed in passing, for example from a sidewalk or pathway, it should be "human" in scale, topping out at somewhere between 3 and 10 feet in height.
And if it's intended to be examined from close up, for example in an alpine garden, the maximum height should be less than 3 feet; any taller plants will be perceived simply as background.
There is also an important relationship between the height and depth of a garden. We human beings have a preferred ratio of dimensions of about 4:3 called the "golden rule" which we tend to find most pleasing.
A garden that is 4' deep by 3' tall at its highest will appear pleasantly proportioned and well anchored to the ground, while a garden that is 3' deep by 4' tall will appear pleasantly upright and enclosing.
Any significant deviations from these dimensions lead us to draw subconscious conclusions about the function.
For example, we will perceive a garden that is ten times as deep as it is high as a surface or a yard rather than a distinctive garden, and we'll see a garden that is ten times as high as it is deep as a wall in and of itself! It's funny how our brains and eyes work, isn't it?
Using Plants for Height
When it comes to plants for the garden, you'll often hear the terms "edging", "foreground", "midground" and "background", along with the concept of focal points, features, or accent plants.
These are all just ways of categorizing plant heights by their optimal application in a typical garden.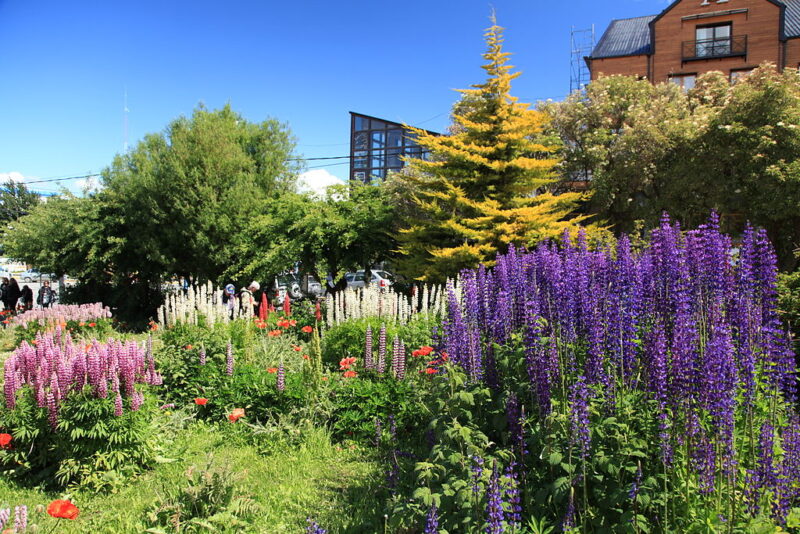 Of course, nothing is ever so simple. A 24" plant labeled as "foreground" might be too tall for any application in an alpine garden, and yet could be the border edging for a massive display garden.
As you can see, it's all relative. Then there's the fact that individual plants grow from seedling to maturity, and over that span may range in height from nothing to massive!
And some, like trees and shrubs, change in height only slightly each year, while annuals and perennials go through the entire range of heights every season.
A castor bean may arrive from the nursery at 3" in height, and grow to be 6' tall two months later!
Then there's the difference between plant height and flowering height. Take hostas or coralbells, for example. They form attractive and uniform mounds of foliage of a certain height, say 12".
But come flowering time, tall spikes of flowers shoot out another foot or two into the air above the mound, strut their stuff, and then fall away, leaving the mound as it was. How does one design for this?
My answer – don't be afraid! Use this seasonal dynamic to its fullest, because nothing alone adds more interest than change. And know the specific period that you're targeting for the garden performance.
If things are designed to come into their own in the heat of summer, then that calla lily will certainly be the centerpiece by that time. If you're after an early spring performance, then you might not want to use it…
The key to using plants in tiers is to be religiously consistent. Design each tier with exactly one variety of one plant, unless you know exactly the effect you're looking for and know it will work.
Here selected cultivars are best because they tend to be more uniform than the species. And the quantities within each grouping of a tier are more or less relatively related to the height and spread of the plants.
Smaller plants at the edge of the border will require more per tier or wave, while you may only need a handful of the largest plants at the back of the border.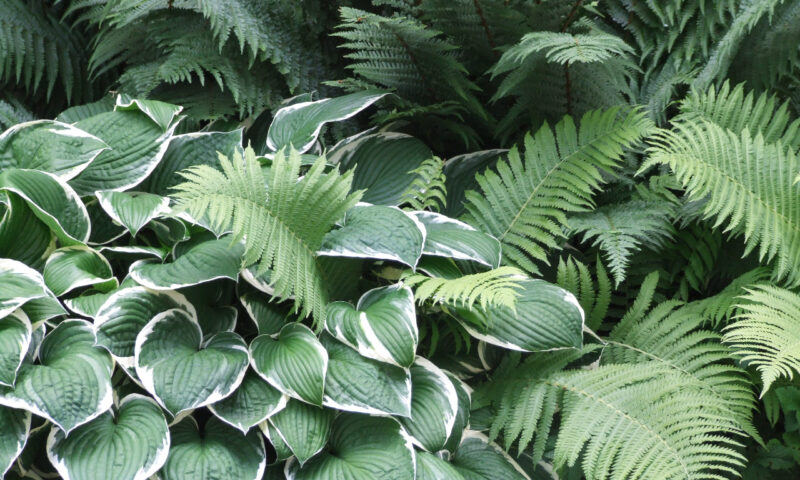 The only exception to this rule is when a plant is used as an accent or focal point in the garden. This is generally one plant, and it is most often the largest plant, which is used as a solitary.
You see when you have one large plant rising above-massed waves of tiered groupings, it stands out. In fact, it really stands out! And that's the idea; it becomes a focal point, the exception to the rule that truly catches the eye.
Accent plants should nearly always be used in quantities of one, except in the very largest of gardens.
They are most effective as the pinnacle of the garden, but can be brought forward somewhat for an even stronger effect; in this case, select the plants behind it for their background qualities to show off the accent because they generally aren't going to be noticed or even seen.
Finally, rules are made to be broken, and this is where the truly inspired garden designers run free. They will create weaving swaths of similar plants that wind and twine around each other like rivers through a field.
They will get playful with plant heights, never too much so as to violate the rules, but just enough to catch the eye of the viewer. They will time their gardens for massive showcase performances, or they will space them out so they are attractive over the entire season.
So don't be afraid to try this in your gardens, but at least be aware of the rules you are bending, and bend them for a reason!