What are the best closet organization & storage ideas? In this article, I'll share my favorite tips and ideas plus review some of the newest storage products.
Closet Storage and Organization – What are the Best Ideas?
Of all the spaces in the home, the closet is one that often gets ignored – sadly, ideas about closet organization never seem to make it to the top of our priority list.
We're much more likely to just close the door on the mess and forget about it. However, most of us can't avoid getting dressed every day; the closet should greet us with order and serenity, setting us on the right foot for the day.
It's time to organize the closet. But turning it from an overstuffed mess to organized bliss can seem overwhelming to say the least.
Where to start? Well, like any organization project, I recommend a simple system, which boils down to three steps: clean out the clutter, figure out the best place for things to live, and source some tools to help maximize the potential of your closet.
In this article, I'll show you how to do this, and offer some closet storage and organization ideas to help you get the most out of your space. Ready to jump in?
Closet Organization Bliss!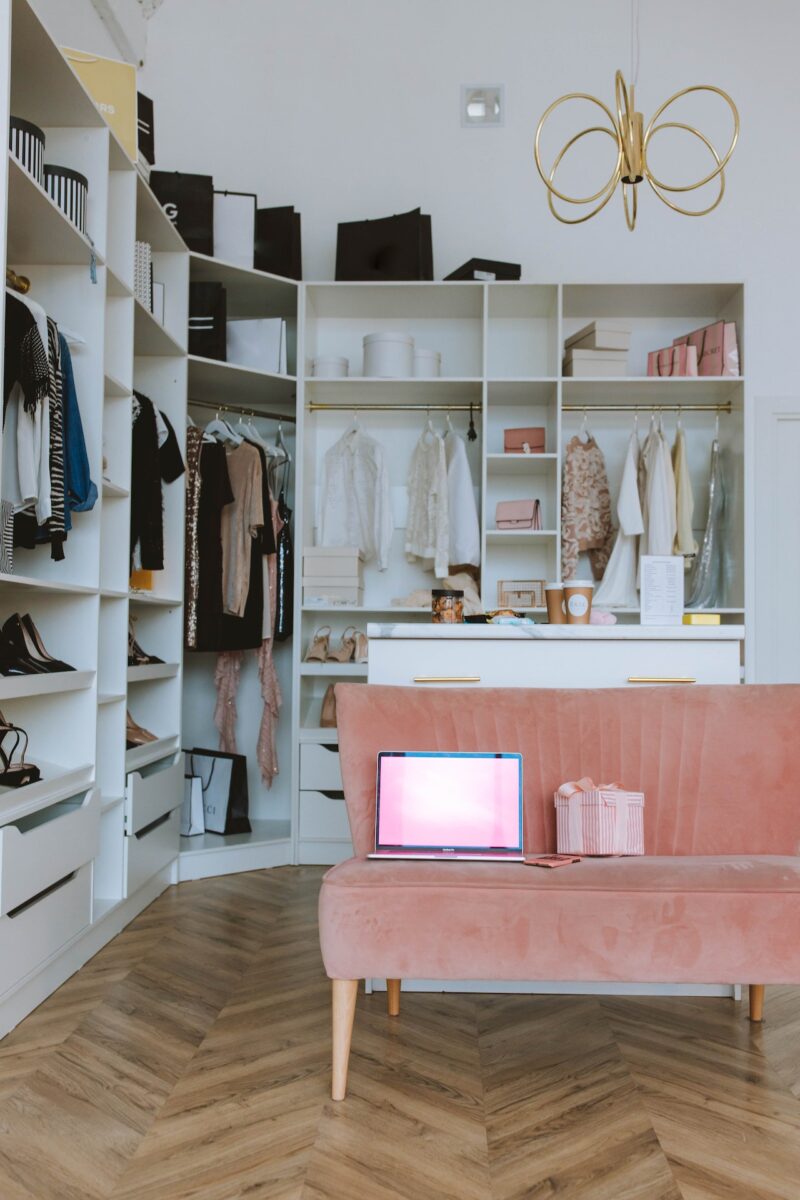 First Among Closet Organization Ideas: PURGE!
The first among closet organization ideas is to pull everything out of the closet – and I mean everything. Sort the contents as you go and lay them on the bed or the floor – somewhere you can easily see everything. You'll probably be shocked at how much stuff was actually in there!
While you have everything laid out, assess the contents with an objective eye. Toss anything that is worn out, set aside a pile for donation, and make sure the rest is clean and in good repair.
Be firm with yourself here – getting rid of clothing can be a challenging task! You may find yourself thinking things like "But I used to like/love/fit/wear that…" But now is now, and your closet needs to contain only what you love and wear today.
Of course, it's okay to keep a few sentimental items – wedding dresses come to mind! – but one of the reasons closets become stressful is because we try to fit too much in them.
Clearing unused items out of your life is one of the best ideas along the way to closet organization and will lead you to a less stressful life – it's well worth the process.
Evaluate the Closet Organizer Ideas That Might Work for You
Now that your closet contents are pared down, it's time to evaluate what type of organizer ideas you will use in the closet.
Every home will use different storage ideas; you might have an attic in which to store winter boots and coats, or you might be dealing with a large walk-in closet that has to store every season's clothing.
Take stock of what really needs to fit back into the organization of your closet. Is there something that would be more logical to store somewhere else in the home? Wherever possible, try to reduce the contents of your closet to what you actually use on a daily basis.
With the closet still empty, give it a quick cleaning – vacuum the floor, wipe down the shelves – and assess the closet in terms of potential storage ideas.
Maybe your closet already has organizers in place; if so, decide if they are actually functional for your life. Often the closet storage ideas a builder thought were good are not efficient at all – or, they may simply not work for your lifestyle.
I'll say it right now: you're allowed to remove any closet organizers that are not helping you!
Is your closet the standard bar-and-shelf type – basically devoid of any useful storage space? Again, consider your needs. Do you have a few dresses, but plenty of pants and blouses?
In that case, you may not need a full-length hanging space at all, and you may consider more helpful ideas for your closet – maybe a shorter hanging space paired with shelves for folded items. Don't be afraid to step outside the typical closet organizer ideas… This is your home and your life; it's time to make it work for you!
Closet Organization At Work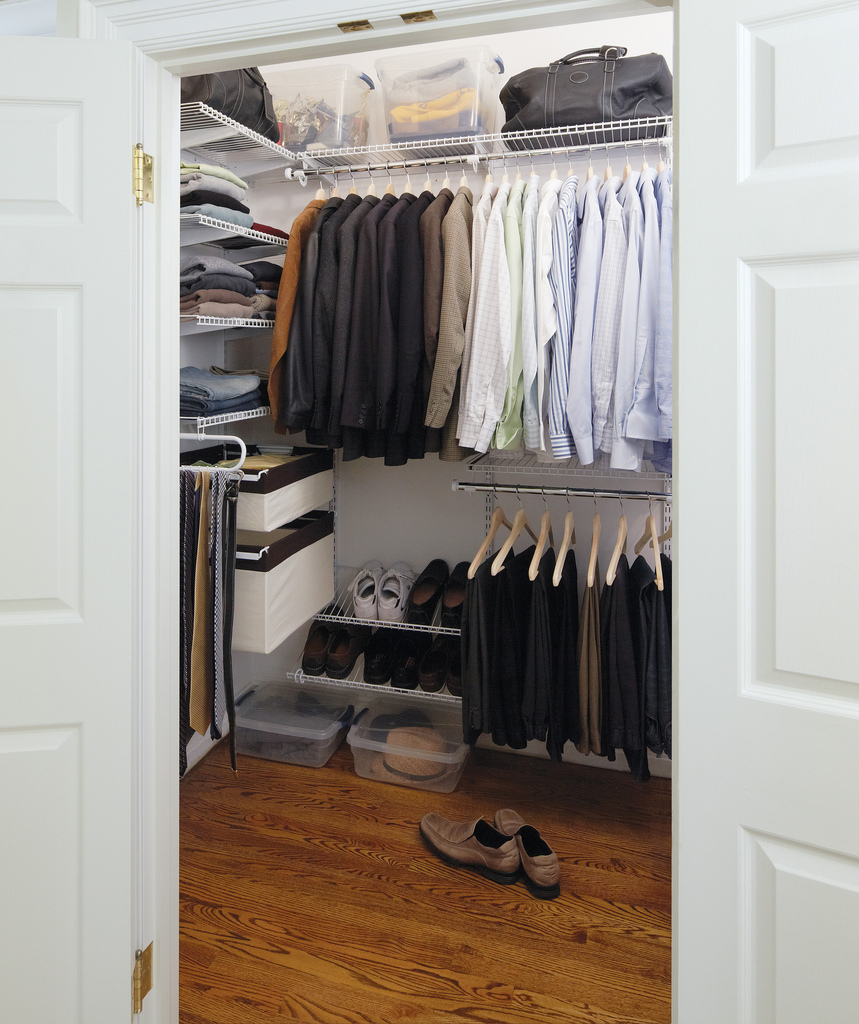 Closet Organizing Ideas to Maximize Storage Potential
A simple idea for closet hang-ups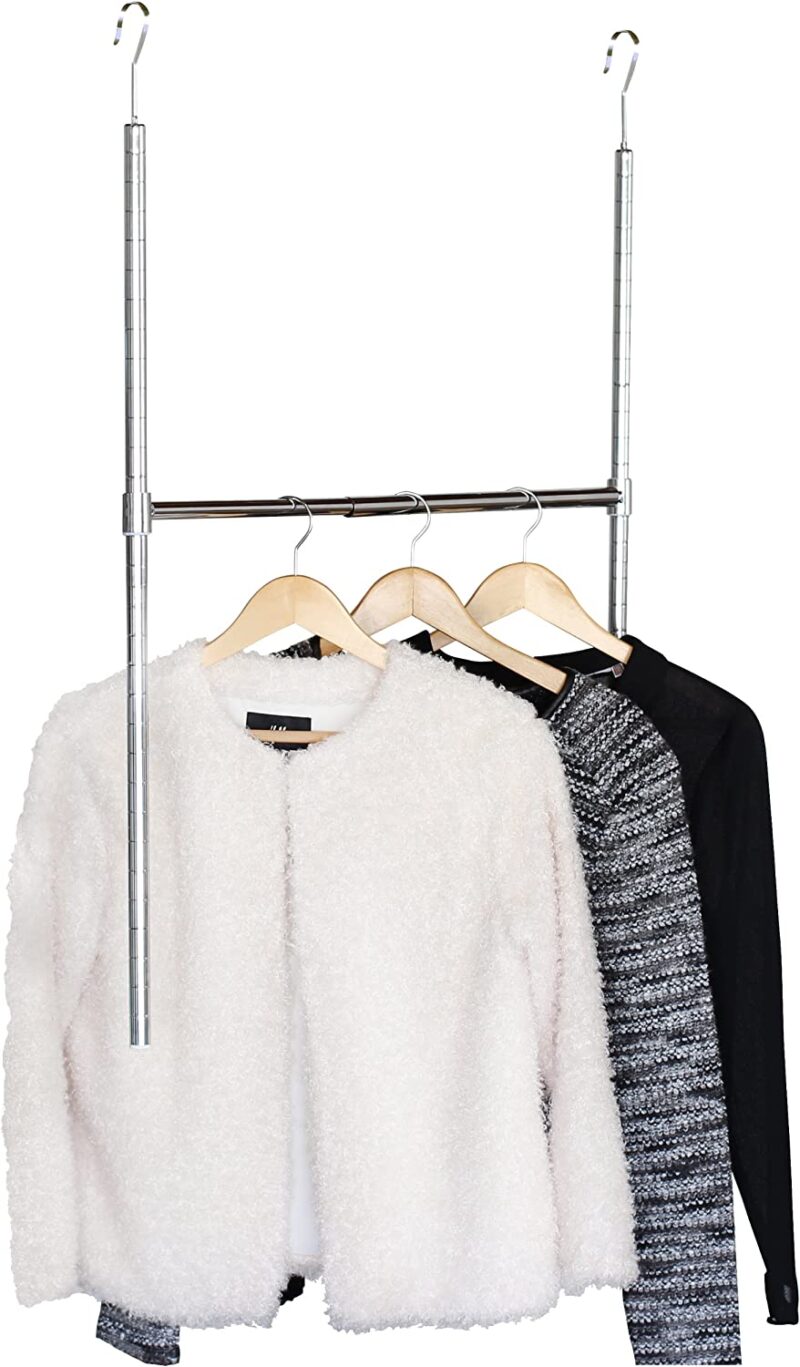 Most of us have items that need to hang up in the closet. But the standard closet configuration – one rod across the top and nothing else – ends up wasting a lot of space, unless your wardrobe consists entirely of ballgowns or bathrobes.
For the rest of us with shirts, pants, and skirts to hang up in addition to longer items, one of the better ideas for storage in your closet is to double up on hanging space. Even in the most basic closet, an easy, inexpensive way to double your hanging space is to grab an extra hanging rod like this one from DecoBros.
This is one of the greatest storage ideas for the closet – it simply hooks onto your existing closet rod and adjusts to your liking, allowing you to hang up two rows of items. Reconfigure the rod's height any time you need to organize the closet again! I definitely count this as one of the best ideas in closet organization.
Beautiful Hanging Ideas For Your Closet
Visual Organization of Your Closet – Put Your Money Where Your Hangers Are
No closet is complete without clothes hangers. But often we end up with a closet full of random hangers – spindly wire ones courtesy of the dry cleaner, plastic ones of all shapes, sizes, and colors – and the result is a messy-looking, difficult-to-organize closet.
If you are really searching for closet organization ideas, then trust me on this one: throw out all those random hangers and invest in a set of well-made, attractive hangers. This may seem like a small detail, but it yields huge results.
Quality hangers maintain the shape of your clothing, unlike flimsy ones. Having all the same hangers makes hanging things up easier. And, when all your clothing is hanging on beautiful, quality hangers, your wardrobe will look amazing when you open the closet.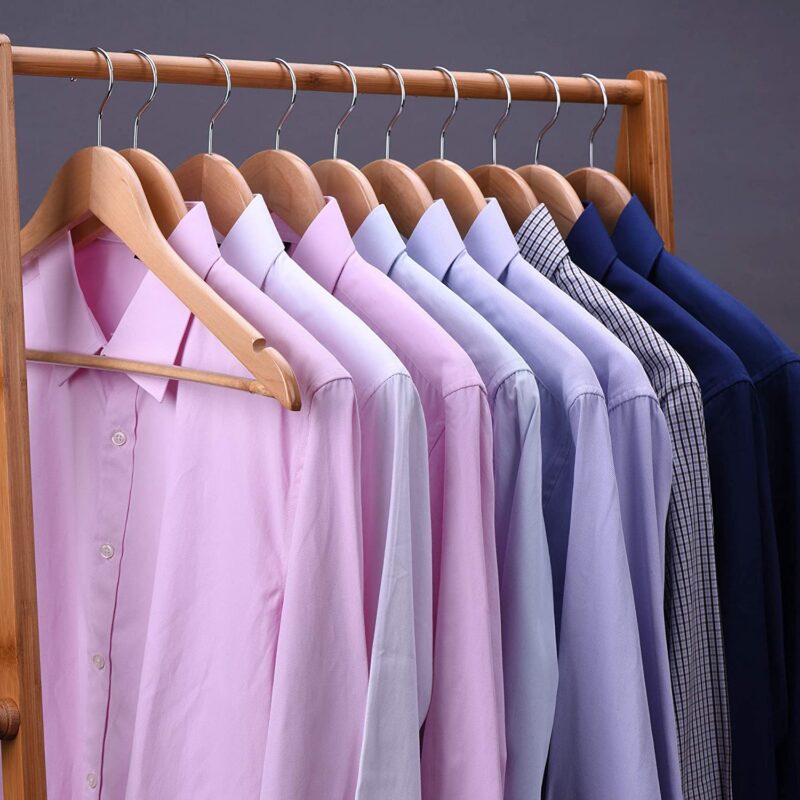 Skeptical about aesthetic value? My husband questioned this one at first, but after I had replaced our motley crew of hangers with a set of beautiful light wood ones, he had to agree that his suits looked amazing.
Remember, the visual appeal of your closet is part of what will make it feel serene and organized – and it provides extra incentive to keep your closet tidy.
One of my organization's ideas is to think of store merchandising: in an upscale store, clothing is displayed on attractive hangers; in cheap chain stores, clothing on cheap hangers is stuffed into racks.
Consider the value you have already invested in your clothing. If a dress or a suit has cost you $200, investing $2 on a quality hanger to properly store it is a no-brainer.
When considering hangers, look for ones like these, with a crossbar and shoulder notches for the most flexibility – so you will be able to use them for all types of clothing over the years. These hangers are beautiful, well-made, and well-priced when you consider what you're getting.
Closet Storage: Small Ideas are Always Welcome
Every closet will have smaller items to store – scarves, belts, ties, and so on. Plenty of products are made to hang up items like this – tie racks, hangers with multiple hooks for scarves, and belts.
This type of storage may seem to fit with other efficient closet ideas, but I would argue that the opposite is true – these are actually space wasters that make your closet look messier – and hardly make it easier to sort through your scarves.
Instead, I recommend closet organizer ideas like these, made with compartments to separate small items. This way your items are easy to see and easy to grab.
Set these closet organization units on a shelf in the closet, and down the road, you can tuck them in a drawer if need be. They come in all shapes and sizes to fit your needs.
Boxing – Top Storage Ideas for Closet Organization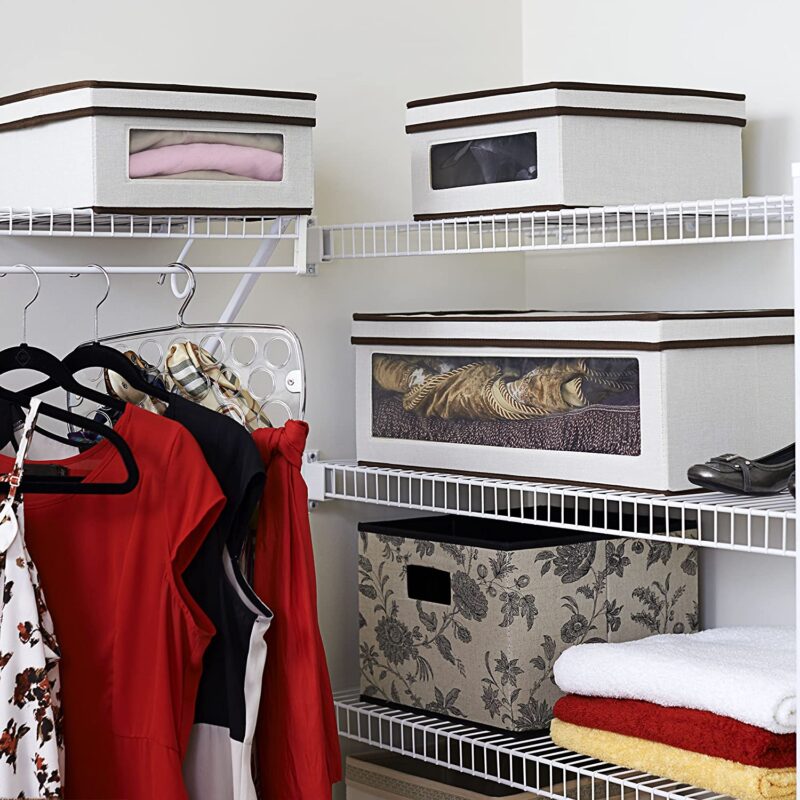 When looking for closet storage ideas for the inevitable out-of-season items, think twice before just stuffing them on the top shelf of the closet. A teetering stack of sweaters is a recipe for a mess – not to mention dust and even pests like moths or beetles.
The answer? Fabric boxes such as these – are perfect for storing sweaters in summer, and bathing suits in winter. They also hold purses, shoes, or anything else you like – contained and dust-free.
These boxes fold flat when not in use, and come in a selection of shapes and sizes. They stack, ensuring that a pile of cardigans or handbags won't attack you.
And another handy feature that makes these closet boxes super organization ideas, is their clear window which easily displays the contents. Perfect
Starting from Scratch? Great Ideas for Total Closet Organization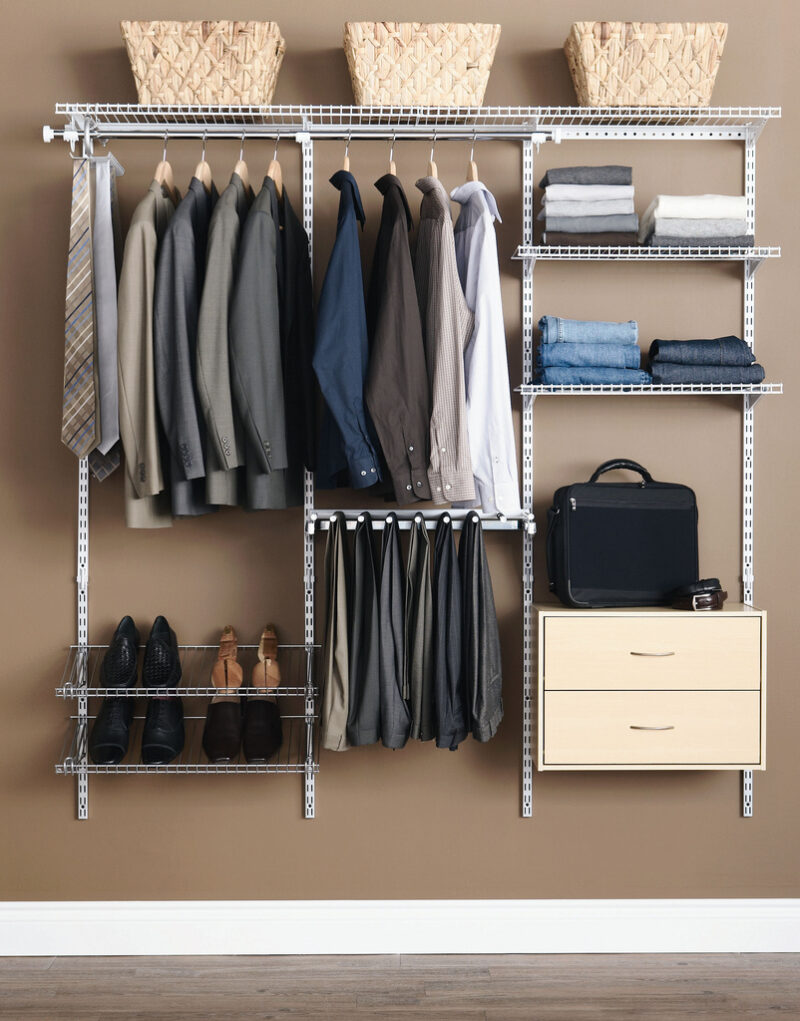 If you want to totally customize your closet organization for a great price point, this product by Rubbermaid is the one. Install this unit easily with a drill and level; then customize it to your heart's content.
There are similar products out there, but for a home closet, this one has some distinct advantages. For one, it's completely flexible and can be reconfigured easily. Hangers can slide all the way across the bar, rather than just a few inches from side to side as with some units.
You can customize this system quite easily with added accessories and components, to make it really work for you. And to top it all off, it is strong and looks sharp. Install this in your closet and your search for closet organization ideas is finished!
Closet Storage and Organization Ideas – A few More Thoughts
Remember: when it comes to closets, merchandising rules apply. The organization is great – but considering how things look visually is essential to achieve a serene feeling closet.
Anything that looks complicated will look messy; aim for simple solutions to organize the closet rather than complicate it.
Match your storage whenever possible. And to really take it to the next level, grouping items in your closet by color really completes this list of organization ideas. It doesn't take long to do but really makes a difference – again, this is an idea borrowed from stores.
They make a big business of presenting items in an organized, attractive manner; why not borrow these ideas for your closet?
I hope this article has been helpful to you and has given you some closet storage and organization ideas you will be able to put to use in your home. I guarantee you won't regret investing a little time and money into making your closet functional and beautiful. And once you've tackled your clothes closet, you'll be able to apply these ideas to every closet in your home.
I'm curious to know what you find useful and what you consider worthwhile for use in your closet. Please share in the comments section, any tips or personal advice you come across!