How often have you come across a magical landscape setting that you simply could never have in your yard? It may have been on a massive estate or ranch, perhaps in a park or a formal garden, or maybe in some other manicured public setting.
You longingly eye the beauty of the composition, and then slowly walk away with a hint of envy, knowing you will never be able to enjoy such visual pleasures in your humble domicile.
While it may be true that such glorious compositions are beyond your grasp for reasons of space, finances, or what have you, there is still much that can be gleaned from them and brought into your very own landscape.
True landscape masters can see past the envy and right into the tricks and techniques that are at play, which combine to make these such memorable compositions. You may not be able to recreate these landscapes in their entirety, but you can certainly enhance the impact and value of your yard using the same principles.
With that in mind, I present for your consideration an expose on five wonderful landscapes that I have come across in my travels and which happened to find themselves in the crosshairs of my camera. Let's have a look at them, and then extract from them the key principles which make them as magical as they are.
Case Study 1 – Springtime on the Estate
Nothing complements a stately mansion like an effective front landscape, especially in spring when all the ornamental trees and shrubs are in their glory. Here we have a beautiful house that looks magnificent in its own right, and which is accented by the surrounding landscape.
The house is enormous and is thus set in a proportionally large landscape, but there is much that the average homeowner with an "average" size home can take away from this landscaping masterpiece.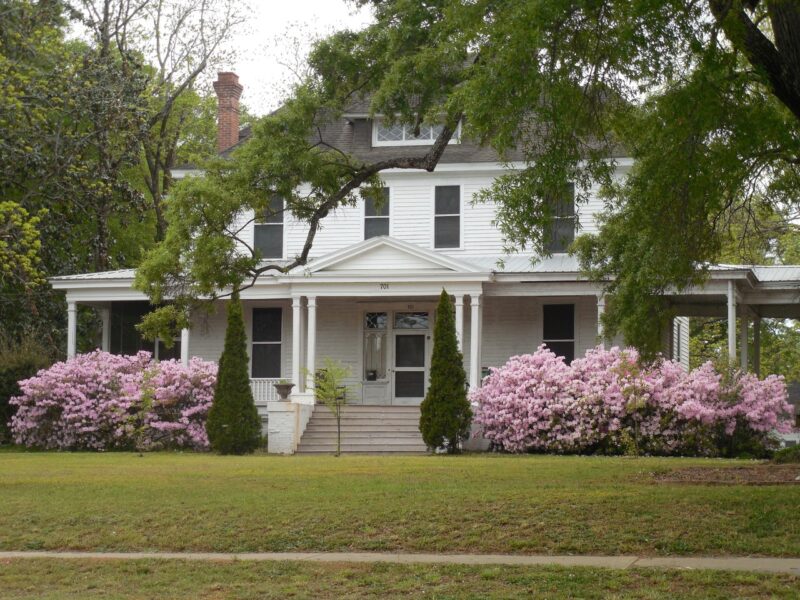 Lessons to Be Learned:
This landscape first and foremost uses plants to accentuate the home rather than compete with it, even when they are in full regalia. Note the clear view of the house. Too often people hide their homes behind their ornamentals, as though they were ashamed of them, or as though the ornamentals are there to steal the show.
Nothing could be further from the truth – the home is the primary feature in your landscape, and everything else should help to build it up rather than detract from it.
Also note how large trees are used to frame the house, employed as a sort of "canopy" well above. If you have the good fortune of having mature trees to the sides and back of your home, they will form a natural "picture frame" for your house. And if you don't, now is a good time to plant them.
Unfortunately, too many homeowners plant tall trees right in front of the house which eventually grow to hide it. This is particularly troublesome and yet far too common, where conifers like spruce, which are impossible to prune to "tree-form", are planted in front.
Again, the home is the dominant feature in the landscape, therefore it must not be hidden behind trees.
Case Study 2 – A Japanese Garden Paradise
Here's a scene that most northerners would kill for. The delicate shell-pink blossoms of flowering cherries are held along horizontally splayed branches, the perfect realization of the quintessential Japanese garden.
The serene water serves as a mirrored floor for the scene, introducing calm and anchoring the composition.
Throw in a recognizable stone lantern, and the vision is complete! But we can't grow these cherries in the North, and besides, most of us don't have landscapes this large, or with a convenient body of water at hand, for that matter!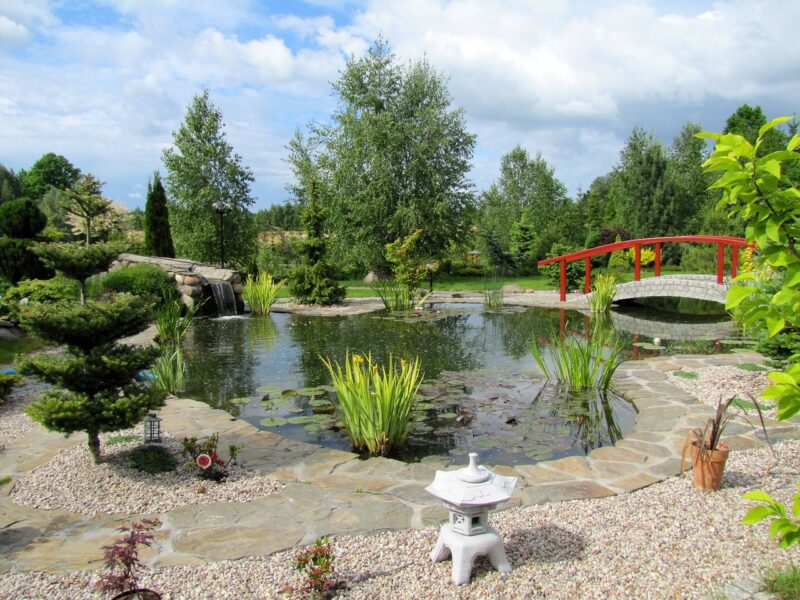 Lessons to Be Learned:
We may not be able to recreate this scene identically in our northern landscapes, but there is so much to take away from it! For one thing, the Asian motif is easily recreated in smaller implementations, by extracting features from the key elements.
One such element is formed. Horizontal lines are dominant in this scene; we see them in the trees, the shrubs, and even the water.
We can find these in such hardy plants as pagoda dogwood, Amur maple, and winged burning bush. These in turn are set off against distinctively rounded forms; in our climate, we can use dwarf mugo pines, spireas, and ball-type honeysuckles, with or without pruning.
The second element is simplicity. Everything has its place, and nothing is crowded. Too often we must have one of everything in our landscapes, with the result being an overgrown, overcrowded mishmash in short order.
Most plants, and in particular trees, need adequate room to grow and spread out if they are to attain their most effective forms. One or two ball-shaped shrubs in the middle of a scene are far more powerful than a host of them abutting each other in a crowded garden.
As for the water, there are several ways to bring its effect into your landscape. For one, you may scale it down and have a smaller pond in the yard. You might simulate the calm, flat surface using a uniform swath of sand, raked level.
Or, you can borrow from the strong linearity of the water's surface, finding it in such elements as long planters, retaining walls, or terraces, as long as they are perfectly plumb – that's the key!
---
---
Case Study 3 – Finding Magic in Simplicity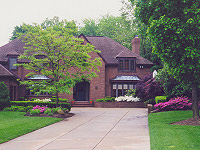 This landscape has always blown my mind, right from the very first time I saw it a few years ago. I hold it up as one of the finest studies in landscaping done right. Everything seems in perfect order; the house, the trees, the shrubs, the lawn, and the driveway.
The colors are so exquisitely harmonious and in balance, and the various landscape forms are integral to the composition. If I could recreate this vision in every landscape I ever did, I would be famous!
Lessons to Be Learned:
Believe me, I have spent many hours staring at this landscape, seeking the keys to its beauty. The one thing that jumps out at me is the harmony of the colors.
When it comes down to it, there are only 3 distinct color groups in the entire landscape; green, pinkish-red, and white. Green is used as the color of the foundation (literally) in the grass and the background foliage.
Against this, the house is a dominant reddish-brown, which is extended into the landscape in the pink flowers and reddish mulch. And white is used as an accent, with the flowers paralleling the white driveway and awnings.
When planning your landscape, you should strive to balance colors and limit them to a select few. The urge is so strong to deviate from such a principle, but the rewards of staying true are infinite.
Green is a given, as is the dominant color of your house. But when it comes to ornamental flowers and fruit, try and select one dominant color for each (assuming they will have separate seasons), and then repeat it throughout the landscape.
Dogmatic repetition of color is one of the strongest techniques a designer has to make a memorable composition.
And again, the front landscape is clean and uncluttered. The house is visible, and the plants are used to frame and anchor it.
The one exception to this rule is the honeylocust in front of the house. This is actually a spectacular landscaping trick, with the tree acting as a veil; because honeylocusts are so fine-leaved and finely branched, the house is visible through the tree.
Case Study 4 – A View Overlooking Paradise
The morning sun rises through a clearing in a large planting which overlooks a gentle misty glade, with a rich autumn forest in the background.
Wouldn't it be just awe-inspiring to wake up to this scene outside your kitchen or dinette window every morning?
Most homeowners don't have anything even approaching this kind of a view outside of their windows into the landscape, but often that is as a result of poor planning more than anything else. The key in landscaping is to identify favorable views and highlight them while concealing unfavorable ones.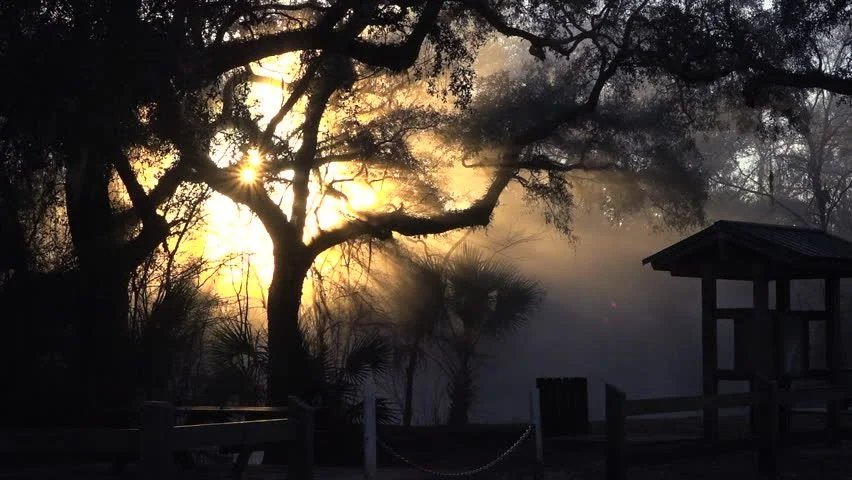 Lessons to Be Learned:
This scene may look like a snapshot of a dream, but there is much that the home landscaper can learn from it and bring into their landscape.
The primary attraction of this scene is the feature of a beautiful vista. This can be accomplished in your landscape as follows.
First, imagine your landscape with no obstructions at all. Put yourself in this scene, and look at the various views of your property. Note any bad views – they will have to be screened out of the scene.
If there are good views, the key is to then frame them, much like you would a picture. It's possible to frame all four sides of the view; the bottom using low shrubs, uniform gardens, and groundcovers, the sides with tall, rising trees, and even the top with high trees whose branches arch over the view as a canopy.
And even if you don't have a stunning view of a glade, a lake, or a mountain vista from anywhere on your property, you can still find something worth highlighting; a beautiful house or accent tree in a neighbor's yard, or even a stunning sunrise or sunset. Let your imagination guide you!
The other key to this scene is the highly effective use of foliage color in the foreground trees and shrubs. Too often we default to drab green plants as our landscape elements or the gaudy purple-leaf giants that scream out for attention.
Yet there are so many subtle shades of green foliage; light green, lime green, lawn green, forest green, deep dark green, greens that lean into blue, greens that lean into yellow, and chartreuse; all of these can be blended to produce a subtle yet effective frame which stands as a composition in its own right.
Case Study 5 – A Castle Rises from the Earth
Here is a house that not only stands out in a bold yet dignified manner but which seems to be intimately tied to the very earth surrounding it. It looks so natural, as though it had existed in this spot for hundreds of years, with the landscape having grown up around it.
Is this style unique to this home, or is this landscape employing some subtle technique that makes it appear so magical? You can bet the answer lies in principle rather than magic!
Lessons to Be Learned:
There are two key design principles at play in this front landscape which give this house its perception of immortality. The first is the skilled use of stonework to tie the house to the ground.
The same blend of stone is used in the patio and pillars of the house as in the retaining wall planters that spill away from it and into the ground.
Much as a rock would jut out of the ground in a natural setting, so too this house seems to jut out of the ground, starting with the planter and extending right up to the roof. The trick is to use elements consistently and repetitively to tie everything together.
The selection and color of the stones are the second keys to this landscape's magic. The colors used are very earthy and feel as if they could have come right out of the ground.
They are further repeated in the colors of the stairs, the railing, the cathedral roof, and even the deck furniture! This degree of harmony is very convincing and makes the house feel like a "whole" rather than a collection of parts, further enhancing the illusion of endurance.
One final thing to note is the way that the landscape "leans" into the very gradual natural slope of the front yard up and away to the left.
Here, we see one of the single most important landscape design principles, which is also the most often violated by would-be amateurs – keeping elements true level rather than following the contours of the surrounding earth.
A planter that extends out of a slope at plumb looks as though it was there before the earth that now surrounds it, while a wall that follows the grade looks like a shoddy afterthought. When it comes to the horizontal level, the cardinal rule should be true unless explicitly intended otherwise.