The Exciting Journey of Kitchen Remodeling
Are you dreaming of a fresh and modern kitchen that will become the heart of your home? Embarking on a kitchen remodeling project is an exciting decision that can completely transform your space. While the idea of a new kitchen may have you daydreaming about cooking up a storm and entertaining loved ones, you might be wondering how long it will take to turn your dream into a reality.
The duration of a kitchen remodel can vary depending on various factors such as the size of your kitchen, the complexity of the project, and the availability of materials. However, with careful planning and the right team, you can have your new kitchen up and running in no time!
Planning Stage: Laying the Foundation
Before the demolition and construction can begin, the planning stage is crucial for a successful kitchen remodel. This is where you'll work closely with your contractor and designer to bring your vision to life. During this stage, you'll discuss your goals, budget, and timeline, ensuring that everyone is on the same page.
Depending on the complexity of your project, the planning stage can take anywhere from a few weeks to a couple of months. It's important to take your time during this phase to iron out all the details and make informed decisions about the layout, materials, and finishes. Remember, a well-thought-out plan will save you time and stress during the construction phase.
Construction Stage: Bringing Your Vision to Life
Once the planning is complete and permits are obtained, it's time for the construction stage to begin. This is where the magic happens, and your old kitchen is transformed into a beautiful and functional space. The duration of the construction stage will depend on the scope of work involved in your remodel.
If your project involves structural changes, such as removing walls or expanding the kitchen, it may take longer than a simple cosmetic update. However, with an experienced contractor leading the way, you can expect the construction stage to take anywhere from 4 to 8 weeks on average.
During this time, you'll witness the transformation of your kitchen as cabinets are installed, countertops are fitted, and appliances are integrated. It's an exciting phase where you'll see your vision come to life, and the anticipation of the finished result will keep you motivated.
Final Touches: The Perfect Finishing Flourish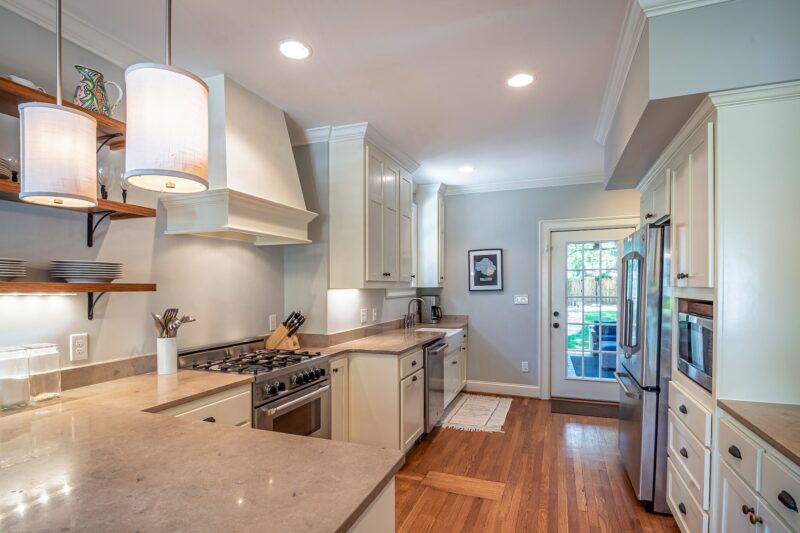 As the construction phase comes to an end, it's time for the final touches that will make your new kitchen truly shine. This includes the installation of fixtures, lighting, backsplash, and any additional details that will add charm and personality to your space.
The duration of the final touches stage will depend on the complexity of your design and the availability of materials. However, it typically takes around 1 to 2 weeks to complete these finishing flourishes. During this time, you'll work closely with your contractor to ensure that every detail is perfect and that your new kitchen reflects your style and preferences.
With the final touches complete, it's time to step back and admire your brand-new kitchen. From start to finish, the average kitchen remodel can take anywhere from 3 to 6 months. While the duration may seem lengthy, the end result is well worth the wait. So, get ready to enjoy cooking delicious meals, entertaining friends, and creating lasting memories in your newly remodeled kitchen!