Laminated flooring – how to remove wax build-up? The solutions provided here work in most cases, and the least intrusive methods should be tried first to minimize harm to the floor. Removing wax build-up will require a lot of bending and kneeling, but it can be done without damaging the floor.
Laminated Flooring: How to Remove Wax Build Up Quickly Without Damaging Your Laminate Floor
Using cleaners meant for real hardwood floors inevitably creates a wax build-up that dulls flooring. This leads to the problem of laminated flooring: how to remove wax build-up on it quickly?
This can be a labor-intensive challenge requiring patience and time, so try these tips and techniques.
Methods to Remove Wax Build Up
A special concern about laminated flooring – how to remove wax build-up – can be overcome by following these tips. The main concepts here are patience and the use of the least intrusive methods. Always test method(s) in a small area first.
Soften and Scrape:
This method requires using a hair dryer to warm up the wax and an ice scraper (like those used on vehicle windows) to peel off the wax layers gently. Wipe the softened wax with a clean, white microfiber cloth.
If this method works well on a small test patch, continue to do the rest of the flooring in this manner. This technique is preferable to methods that require liquid to be in contact with the flooring for prolonged periods of time.
Vinegar:
Using a white microfiber cloth and a spray bottle filled with white vinegar and warm water, spray a small area and wipe. Do not allow the mixture to sit on boards as standing liquids warp the boards. The only way to fix that new issue is by doing a board replacement.
Baking Soda:
Make a paste of baking soda and water. Gently rub on the floor in one direction, and wipe with a clean cloth. This method may work well with light wax build-up, and baking soda won't harm laminate flooring. It is also a great way to erase marks left on the floor by rubber boots or shoes.
Last Ditch Efforts
If the above methods are not satisfactory, there are two other methods to try, but they require vigilance and precautions. For safety's sake, keep children and pets away from the chemicals and the working area.
Always wear gloves, a mask, and safety glasses. Mineral spirits and ammonia vapors are harmful so working in a well-ventilated space is highly recommended.
Mineral Spirits:
These are commonly found at artist supply stores and hardware stores. Mineral Spirits are used to remove paint, grease, and oils from brushes and surfaces. Method: Apply a small number of mineral spirits to a small section of the floor, and allow it to sit no longer than 10 minutes.
Wipe it gently in one direction until clean with a microfiber rag.
Ammonia:
Mix one-half a cup of clear ammonia (non-sudsing type) with a gallon of hot water, and use a microfiber cloth to work the mixture onto a small section of the floor. If the wax comes off easily, remove the wax with a clean cloth, dry the clean section immediately, and proceed to work on another section.
Do not overdo the ammonia process or make it stronger because ammonia can strip the protective coating on laminate floors, which makes them prone to warping in the future.
A final tip regarding laminated flooring – how to remove wax build-up – to avoid ruining your washing machine, throw soiled rags away.
Laminate Flooring: How to Remove Wax Build Up
Here are some final considerations for tackling the job of removing wax build-up from laminate floors: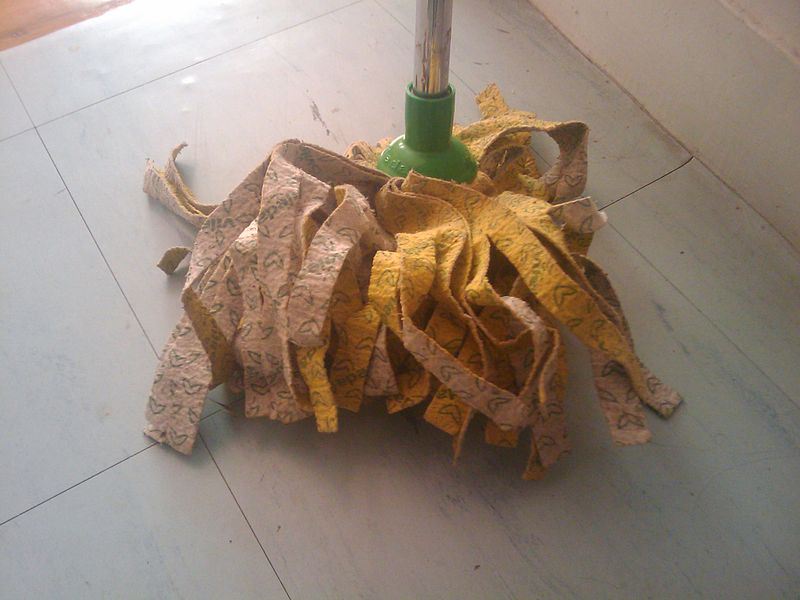 A Swifter Jet is a convenient way to clean floors, but some people have found that the mixture tends to lend an opaque haze to their laminate flooring. A trick is to use an empty Swifter Jet bottle that has been filled with a mixture of white distilled vinegar and water.
For stains that won't come out with a baking soda mixture, consider trying a Mr. Clean eraser in a small area first or a dab of alcohol on a microfiber cloth.
Always use a white, or light-color microfiber cloth to prevent dyes from staining the laminated surfaces when reacting with cleaning products or strong solvents.
Prevent Problems and Maintain Polished Floors
Try one or all of these methods to maintain the floor:
Use a dust mop that attracts dust to its fiber. Disposable clothes or washable ones are available at most home improvement warehouses or grocery stores.
Carry a spray bottle with a mixture of one part of white distilled vinegar to three parts of water. Spray the floor and mop with a microfiber towel or a mop with a microfiber head.
Use a bit of baking soda and a damp sponge to remove any stuck-on gunk; wipe clean and dry.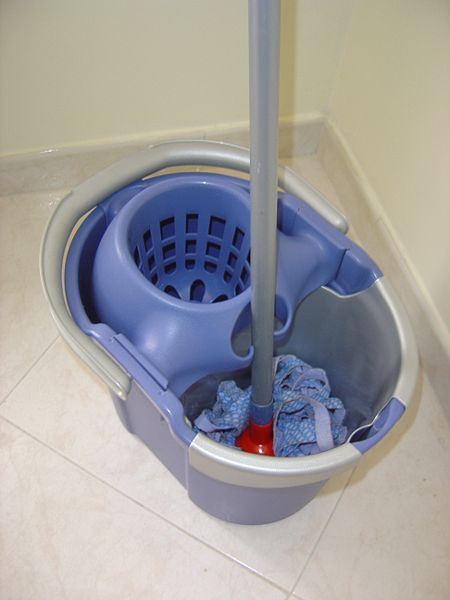 Finally, a vacuum is a great way to maintain laminate flooring and keep it looking its best. Use the 'bare floor' setting on the machine or the extension wand with the appropriate attachment.
Resources