A Measure of Interest
If the secret of landscaping could be summed up in one word, that word would be "interest"; it's all about interest. The value of a landscape can be measured by what catches your attention and how long it holds it.
When you think about it, this should be obvious; if your landscape makes people drive by a little more slowly, or your friends stop every few feet to examine the details, or if every day that you walk out into your yard, you are captivated anew by one thing or another, then you know that your landscape is at its best. It is interesting.
There are numerous ways to add interest to a landscape. The most obvious include bold, colorful flowers, detailed gardens, or multi-functional human spaces that encourage you, your family, and your friends to get out in the garden.
Look for other means to create interest; providing an accent shrub or statue with a suitable background that makes it stand out more, creating waves of color in the garden, or tastefully illuminating a feature at night.
Interest can be bold, contrasting colors that stand out from each other; it may be the large tropical leaves of sumac that are noticeable from a great distance, or it may be a small wind chime hidden in a tree that whispers eerily magical tones in a shady corner of the garden.
Interest doesn't just mean being different or loud; it can be subtle, such as the repetition of a specific plant, a symphony of textures and shapes in the garden, or a particularly interesting shape.
Hard materials can be used to add interest that plants can't, eg. B. Dark statuary or arbors add vertical dimension to narrow spaces. The interest may be in the details, discovering unexpected botanical treasures in a rock garden, or the delicate blooms of a tea rose, bursting with fragrance when viewed up close.
The interest is also surprising; hide things in your garden and the curious will be rewarded with pleasure for watching.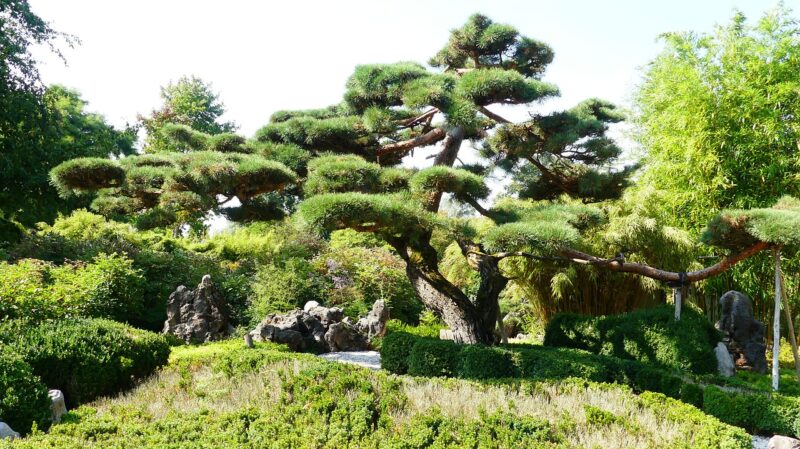 The key to interest is maintaining interest throughout the season, and that's a lot harder than it sounds. The best landscapes provide interest 12 months of the year, and keep you out and active in your yard throughout the year.
When planning your landscape, ask yourself, do you want your art to make one big performance at one point, or would you rather find interest throughout the year? Don't get too caught up selecting plants that are showy in spring and summer, but rather pick some for each of the seasons.
Also, note that hard materials can bring multi-seasonal interest to a landscape in the low seasons.
Interest tends to be transient over the seasons, both as a result of plants going through their cycles and with the rising and setting of the sun at different angles, constantly creating new light and shade in the yard.
It's almost a no-brainer to create interest in the spring when everything is blooming, colors are fresh and rebirth is in the air. It's a great deal harder in November.
In fact, November and March are the most difficult months to keep interest high in the north; the leaves have turned brown or fallen, it's gray and rainy, there's little snow on the ground covering the brown grass, and the color is definitely missing from the landscape. This is when the best designers are separated from the rest.
Spring
It goes without saying that spring is the easiest season to design for. This is the season of freshness and rebirth; all the colors seem brighter and more vibrant after the bleakness of winter.
The greens are fresh and greener, and soft delicate colors abound. After a long, hard winter, everything just glows with the radiance of life, as if rejuvenated by a breath of fresh air.
Flowers in a multitude of colors are pretty well the universal element of spring. If you look closer, you will find that most trees and shrubs bloom in spring, as opposed to fewer perennials and even fewer annuals.
Use this to your advantage; a crabapple tree or a flowering cherry or dogwood could almost be the postcard of spring and can draw attention from miles around.
Most showy shrubs also bloom in spring, from the early yellow forsythia to snowy white mockoranges in June. Rhododendrons and azaleas steal the show in May and can persist into early summer. Spring bulbs, including tulips and daffodils, along with flowers such as moss phlox, complete the scene.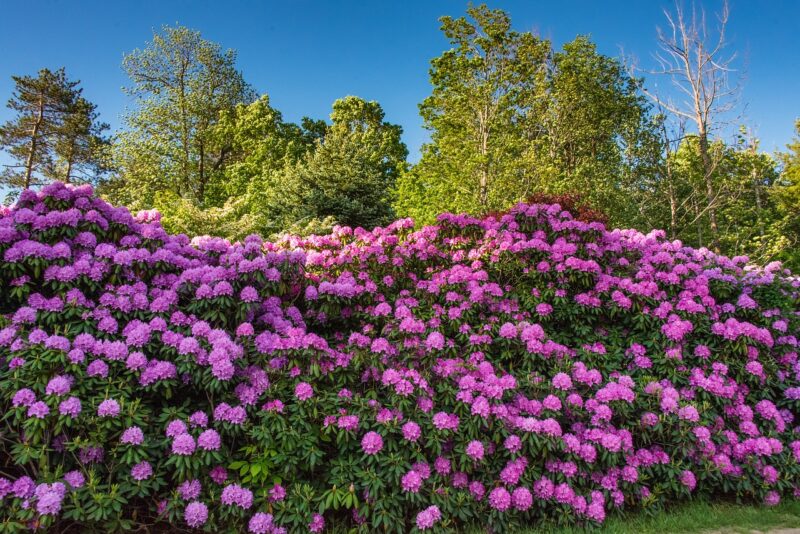 Your choice of spring colors is overwhelming. Nature tends to favor whites and pinks, colors we often associate with a subtle spring scene. Yellow is a much brighter color, the color of the sun, and makes a bold statement, advertising that spring is finally here. Don't overlook spring foliage colors as well.
Many plants have emerging foliage with colors that are quite different from their summer color, often much more lively. Examples include the yellow of the "Sunburst" honeylocust, the rich bronze of a "Deborah" Norway maple, or the delicate silver of an amur maackia, all of which eventually fade to green with the heat of the summer.
The real trick to spring design is maintaining balance and harmony. It is far too easy to have a jumble of uncoordinated blooms and colors that only confuse the eye and end up looking busy and even chaotic. Take the time to study the colors, periods, and habits of your spring flowers, shrubs, and trees, and plant accordingly.
Choose only a few of your favorite spring plants and either define them as solitary accents with proper backgrounds or mass them for maximum effect, rather than trying to have one of everything blooming at once.
Summer
Summer is the season of the annuals and perennials. In the heat of summer, most trees and shrubs have finished flowering, and fade into the background, focusing their efforts on growth and fruit production. This is now the time for the traditional flowers to take the stage. Thus, gardens become the landscape element of focus for the show.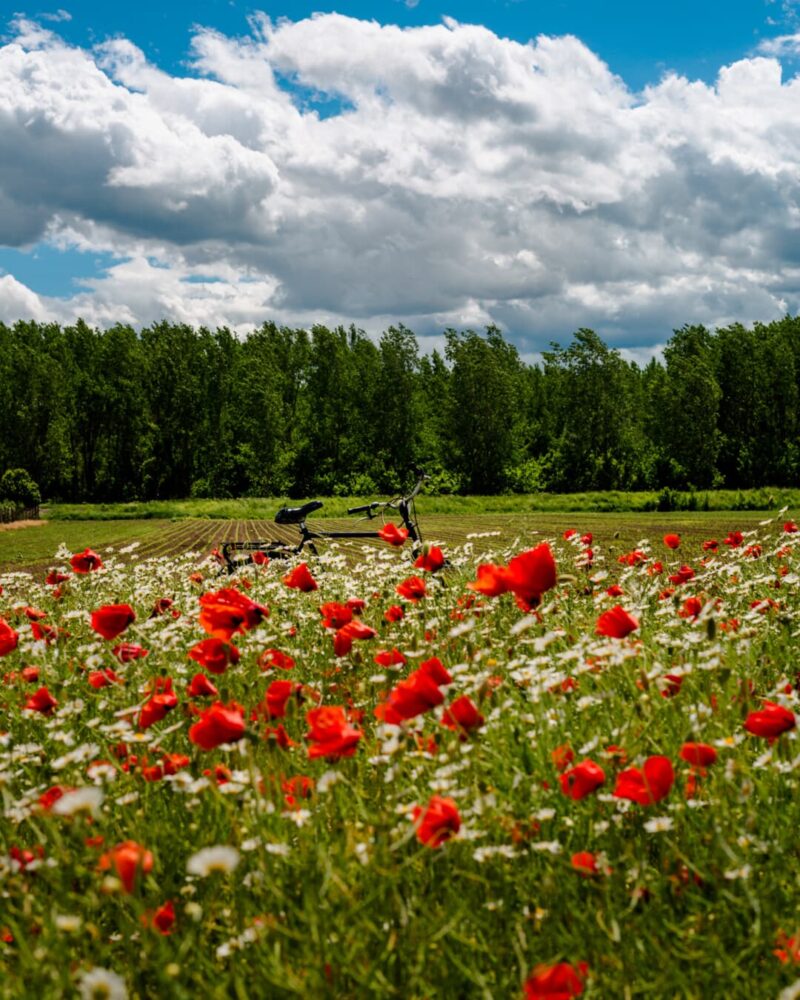 Again, the secret to a good garden performance is to focus on a few specific plants and use them in creative masses. Remembering the color wheel, put complementary colors together in waves that wash across the garden in blazing swaths of color. Or, use contrasting colors to make bold and brilliant statements.
Bright or deep colors tend to add to the heat of summer, and look extremely vibrant, whereas pastels and softer colors are gentler and display a more subtle beauty. If you want a cooler feel to your garden, stay with purples and blues. If you want to amplify the summer heat, use brilliant reds and scarlets. Virtually all colors are available in the summer palette.
This is also the best time to put some fundamental landscaping characteristics to work. Varying textures, shapes, and forms enhance your design repertoire; the dignified delicacy of a Japanese maple, the weeping form of a cut-leaf birch, the variegation of a dogwood or the airiness of a thread-leaf false-cypress all add to the landscape composition.
Foliage colors become prominent, from the purple accent of a "Crimson King" Norway maple or a "Schubert" chokecherry to the steel blue of a Colorado spruce and the shimmering silver of a Russian olive.
In fact, the best landscapes complement the obvious show in the garden with strong contributions from trees and shrubs at this time of year. This is when you have to look harder and closer at the landscape attributes of these plants and plan well.
There are even late-blooming trees, such as the linden, amur maackia, or the stewartia, or shrubs like hydrangeas, butterfly bushes, and summersweet and continuous-blooming roses. Be sure to fit at least a couple of these into your garden to keep interest high.
Remember to be practical as well. A well-placed shade tree can provide much-needed relief from the direct sun and makes a family or entertaining area more inviting. Balance the plants in your landscape with the tasteful use of hard materials and accents.
A pergola covered in vines can also provide shade in the garden, and a bird bath or feeder will welcome feathered friends into your yard. A statue here and a container planting there will help to balance the dynamic vibrancy of summer, bringing harmony to your yard.
Fall
In many parts of the world, fall is one of the most obvious seasons for show. October in New England is a sight that most people will never forget, with its vibrant palette of reds, yellows, and burnt oranges offset against the deep greens of evergreen pine trees.
A carefully colored fall scene will elicit more oohs and aahs than any other landscape scene, and makes the onset of winter a little more special. The objective of this season is to capture this vibrancy and incorporate it into your landscape on a smaller scale.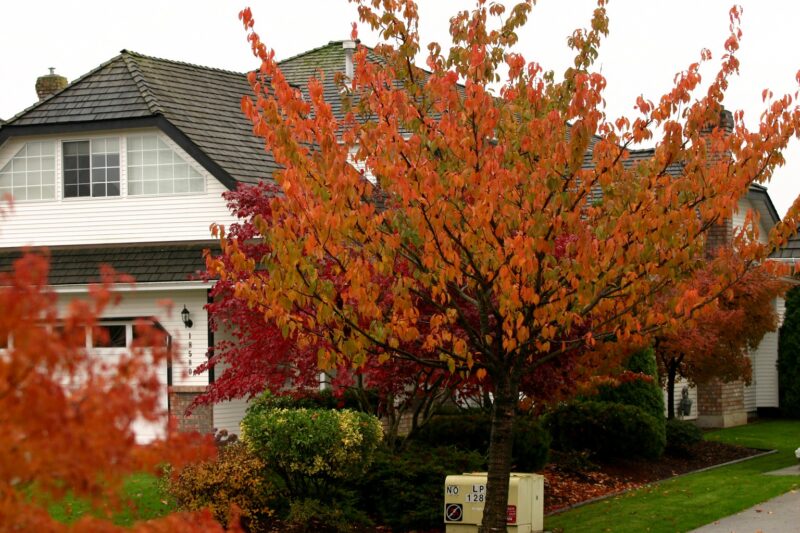 There is an incredible palette of blazing colors available in fall; orange, red and yellow are typical colors of the fall landscape. Certain plant species are renowned for their fall impacts; maples for orange and red, birches for deep golds, aspens for fiery yellow and orange blends, and pears for purple.
Don't forget about shrubs, too; azaleas, fothergilla, viburnum, and witchhazels bring fall color on a more personal scale. Be careful to note, however, that not all trees produce radiant fall colors, and many species produce no fall color at all.
On the other hand, certain cultivars of plants have been selected for improved or more consistent coloration, so for guaranteed fall color, you are best to choose named cultivars.
Fall is also the season for fruit, both in a landscape sense and in a tasty sense. Fruits are the basis of delicious preserves, and fall is the season for canning and jam-making. If this is your objective, be sure to select varieties with optimum fruiting characteristics.
Butfruits are not only about eating; the brilliant red berries of the cranberry, red, yellow, or orange crabapple fruits and scarlet holly berries (particularly winterberry) are outstanding in this season and can perform the same ornamental function as flowers in spring if used properly.
Fall colors only last a few short weeks in any given region. Temper your enthusiasm for a blazing fall spectacle with the reality that it will soon be followed by the dingy gray of November when even the best landscapers will be hard-pressed to keep interest high.
This is the time to accent colorful fruiting characteristics, unusual bark, such as the white of birch or mottled pattern of the planetree, stately branching habits such as with oak, and to let evergreens take over the show. This is also the time for choice hard elements to strut their stuff, showing off their enduring interest to greater potential with far less competition from the plant world.
---
---
Winter
Winter gets a bad rap in the North, and as US northerners know, it can be tough. It is certainly the greatest landscaping challenge of all, and yet surprisingly it is often overlooked by even the best of the professional landscapers.
This should be a crime in the north, where winter can actually be the longest of all seasons. Let me assure you, with good planning and strategic use of the resources available, winter in your landscape can be just as interesting as in any other season.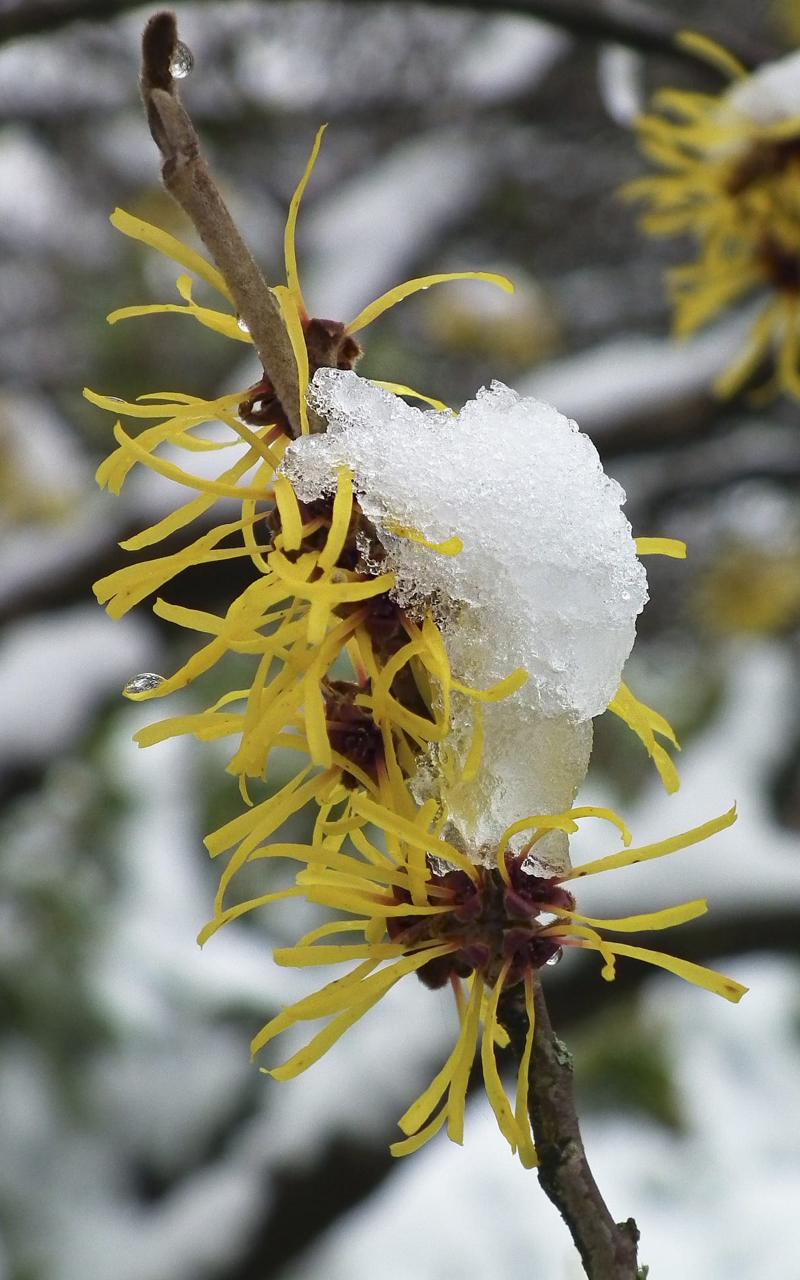 Foremost, when we think of winter plants, we think of evergreens, and their value is paramount in the winter scene. Be sure to make the same effort to fully understand the ornamental characteristics of all the different evergreen types, because in winter they will be of great value.
Look for variations in color, such as the blue of a spruce, the gold of arborvitae (cedar), or the deep green of a pine. Texture plays a role, as the various evergreens each have a unique characteristic appearance. Since your winter landscape is often appreciated from a distance, articulation becomes even more important.
Finally, as a rule, even in the most southerly of the "northern" landscapes, broadleaf evergreens should only play a minor role as they can be easily damaged in a harsh winter.
Winter is the season for the bark to take the stage. Some trees and shrubs have obvious ornamental bark characteristics, such as the red or yellow twigged dogwoods, the jet black oak, the unmistakable mottling of a planetree, or the snowy white of the paper birch.
Others possess unusual bark features that can only be seen in winter, such as the corky stems of the burning bush, the exfoliating bark of Ninebark, or the contorted stems of the corkscrew willow.
Many trees retain colorful fruit well into the winter, such as barberry, cranberries, and some crabapple species. Some are just overall made for winter, like the amur cherry, which has glossy, cinnamon-colored bark that peels. Such trees and shrubs with high winter value take over the role of accents in the winter landscape and absolutely must be integrated into a northern landscape.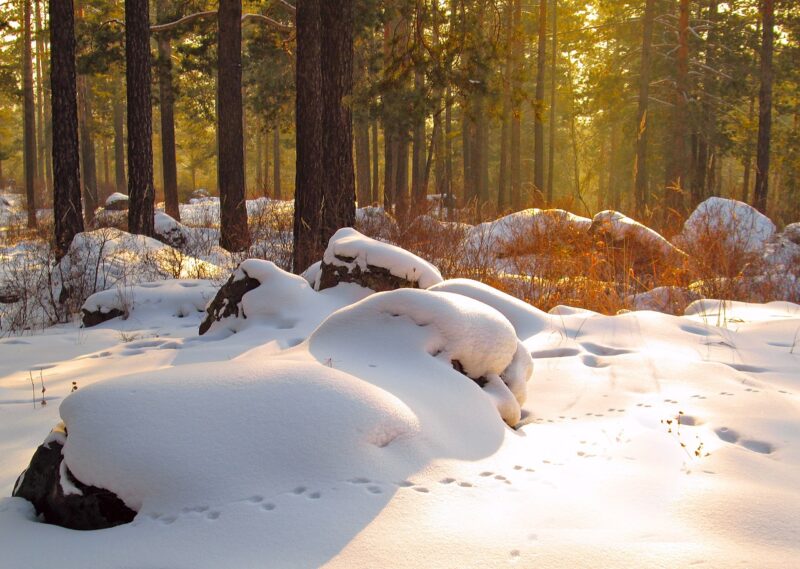 Another secret of winter landscaping is to make snow your friend. There is something invigorating about a snowy icing draped over evergreen boughs, or accentuating the twisted branches of a majestic oak tree. Consider the radiant whiteness of a fresh snowfall as your winter ground cover. Hoarfrost can also transform a landscape into a winter wonderland; look for trees with fine branchlets such as birch to display hoarfrost at its maximum potential.
Hard elements have an especially important role to play in winter. They are particularly well accented by snow, and show well without competition from plants. Because of the longer periods of darkness in winter (especially true the further north you are), night lighting should play a larger role in the winter landscape.
Study the play of shadows and silhouettes from the various parts of your landscape, and highlight them with night lighting. Make your landscape a feature of the winter season; Christmas lights, colorful statues, and ornaments can make your home Santa's "southern palace", and bring outdoor cheer to an otherwise home-bound season.
One aspect of winter that helps give it a bad name is the extremes of weather, such as constant snow shoveling, howling winds, and frightening windchills. However, it is possible to develop a landscape that minimizes winter maintenance or impediments through intelligent design and planning.
Plant hardy evergreen barriers to block the prevailing winds, particularly on the north and west sides of your property, and be sure that the shade trees to the south of your home are deciduous, to allow the warming rays of the sun to penetrate in winter. Plant hedges and screens where they will block blowing and drifting snow, keeping the snow-clearing obligations to a minimum.