Landscaping with large boulders may be a serious project that requires planning, commitment, and money; but, it can also be incredibly rewarding. Find out about boulders in landscape design and tips for making your vision a reality.
Landscaping with Large Boulders: Tips for Adding Boulders to Your Landscape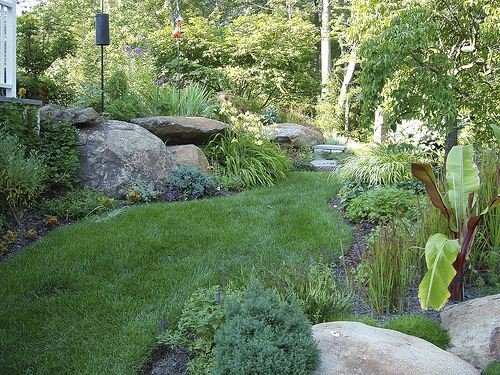 Is landscaping with large boulders a good idea? It is a great idea! Find out what you need to consider and where to find boulders for your landscape design.
Landscape boulders add visual interest through depth, texture, and color. They can serve as a breath-taking centerpiece for a simple herb or flower garden, line a walkway or staircase with eye-catching shape and size, form a striking wall or border, or even enhance a backyard pool or fountain with the natural serenity of stone. Landscaping with large boulders is a big endeavor with dramatic results.
So you know that you are interested in landscape boulders, now what? What options are available? What preparation is required? Where can you find them? Are there ways to make this project less of a behemoth?
Landscaping Considerations
What decisions need to be made in order to put boulders in your landscape design? First, decide what you are looking for — dark hematite, iridescent mica, white dolomite, reddish-brown flagstone, red and black lava stone — there are so many different types of boulders available for landscaping. Take a look at different rocks to get ideas. It is a good idea to order a sample of different types of stones or browse through your local landscaping store so you can have a concrete idea of what you are buying.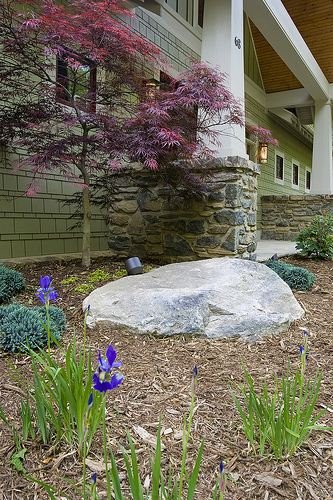 Decide where you want your boulders and how many will be needed. Will this project require professional installation? What about professional design? Keep in mind that once you have your boulders in place, they are not easy to move. Take the time to design placement or hire someone to do the design for you.
When you have the actual rocks pay attention to the shape and texture on each face before placing them. You may want the most interesting face of the rock to face a particular direction, leaving a simple surface for the birds to enjoy.
For a more natural look, you will want to plant your boulders. You can do this by digging four to six inches into the ground where you want the rocks placed.
---
Read Also:
---
Where to Find Boulders
Now that you know what you are looking for and you have your design, it is time to find those rocks. You have three options. First, the least expensive and most adventurous is to find the boulders yourself. Check with local rock quarries, landowners, or construction sites.
Contact your local resources first to see if anyone is interested in getting rid of the boulders that they do have for free or for a reasonable price. This gives you the ability to pick out the stone yourself and to see it 'in the flesh' instead of through a picture online.
Second, try local landscaping supply stores. There are many advantages to this option. You can go to the shop and pick out exactly what you want. There is likely to be a great selection of different types of boulders for your landscape. You may be able to do a one-stop shop for the actual boulder as well as design and installation services.
And finally, look online. There are plenty of national and even international places to buy a wonderful selection of boulders. Kafka Granite, KRC Rock, and Roderick's Skid-Steer Service are three great online retailers that offer boulders and delivery. This may be your most expensive option as shipping will be very costly.
There is a way to bypass the expense and intensity of boulder landscaping — fake rocks. If you just want an easy-to-move, realistic-looking large rock to place in your garden you can always go to Home Depot and find what you are looking for, carry it into the car with your own two hands, and put it wherever you want in the garden. Home Depot sells fake boulders made from plastic resin.
Landscaping with large boulders does take some effort, but once you have your beautiful stones in place, you will be able to enjoy the tranquility and visual appeal of a unique landscaping design element. Take your time making your plans, know what it is that you want, and consider a designer for putting boulders in your landscape.
References