Creating a meditation garden is a personal way to accommodate the special need to have a place to escape from life's stress. Get creative and make your own meditation garden art – it puts more of your energy into the special place you can call your own. This article takes you on a tour of an artist's meditation garden, giving suggestions on how to make your own design to fill your senses and allow you to meditate and escape from stress. Visitors to your garden will love touring your space with all of the art pieces you have added!
Make Your Own Meditation Garden Art and Refresh Your Spirit
Creating the perfect place to relax after a long day at work or when stress has gotten the best of us is easy to do. A meditation garden can help relax and rejuvenate your spirit – add your own artwork and you've created a relaxation spot that will fill the senses.
Your Own Special Space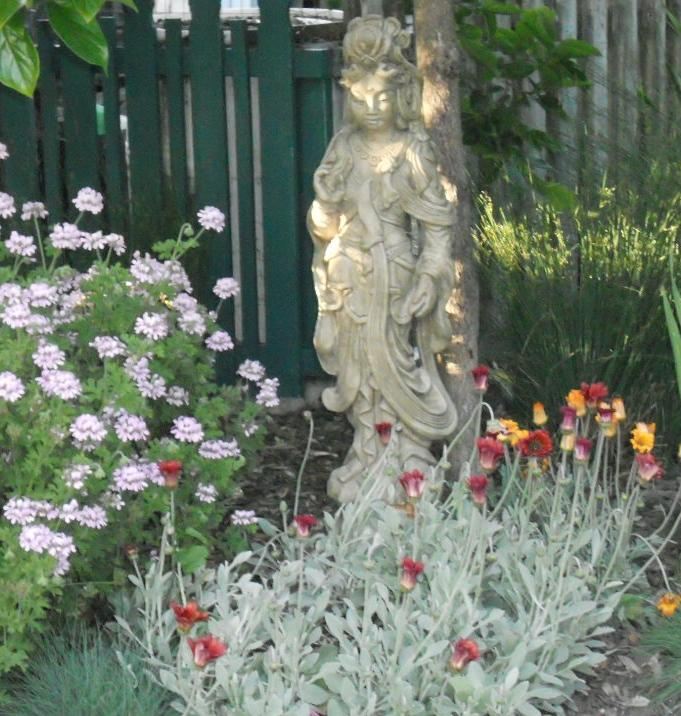 A meditation garden is a place you can call your own – just yours – to give yourself those quiet moments we all need in our busy lives. Making your garden of Eden isn't difficult.
Choose an existing garden space, or create one. Add the flowering plants or shrubs you wish to have around you, and add some extras like rock gardens, driftwood, or statues and you have a place for relaxation and daily meditation activities.
To make a meditation site special though, you can create a spot in your garden that is filled with your own energy by making your own meditation garden art to add to your relaxation garden.
Adding your own garden art boasts beauty, and fills the senses to give you the perfect spot to relax, meditate and enjoy an afternoon quietly. The artwork that you have created makes the site yours. Visitors that see your garden will love to walk through and take in all that it has to offer.
The sights, smells, colors, serenity, and beauty will fill their eyes, nose, and spirit with the colorful flowers, and scents from floral arrangements and growth, along with visual treasures found within the garden.
Visiting a friend's home recently, I sensed joy and curiosity as I walked through her meditation garden, complete with crystals, garden tools, antiques, gemstones, painted rocks, and various artwork she had created.
It felt as though I were walking through a botanical garden area while on a special treasure hunt. In each section, I saw there were more delights to enjoy.
I had to make three or four trips through the garden since she had filled her meditation area and connecting gardens with artwork, crystals, and gemstones by the dozens. She had art everywhere, throughout, creating an artistic masterpiece so filled with beauty that it took several trips to catch all of it.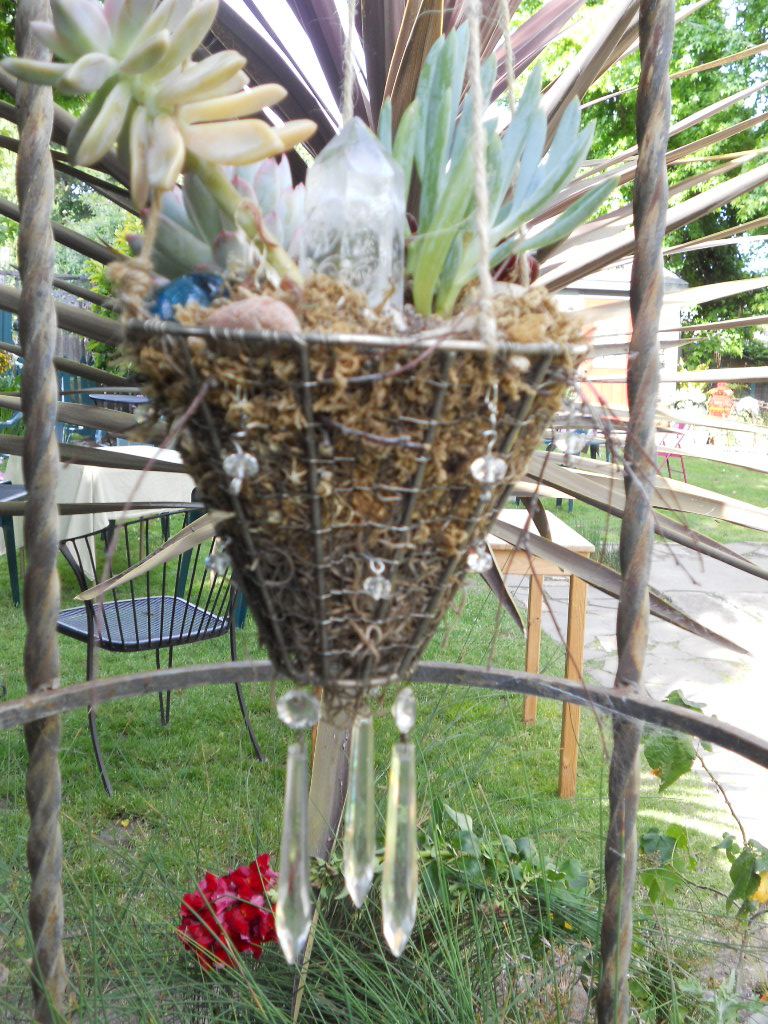 The meditation garden was completely filled with all types of artwork. An artist by profession, she placed designs, from the most simple objects created by nature with a touch from her own hand to items she acquired in a second-hand store, painted, then added to the already perfect area.
While the garden itself was beautiful, but not unusual, the artwork she added only left me craving more, as it was so breathtakingly extraordinary.
The artwork is simple, natural, and amazingly creative, however, it is kept at a minimum in terms of cost. She has graciously given me permission to share these sacred, beautiful spots in her meditation gardens.
Jordan and Her Front Yard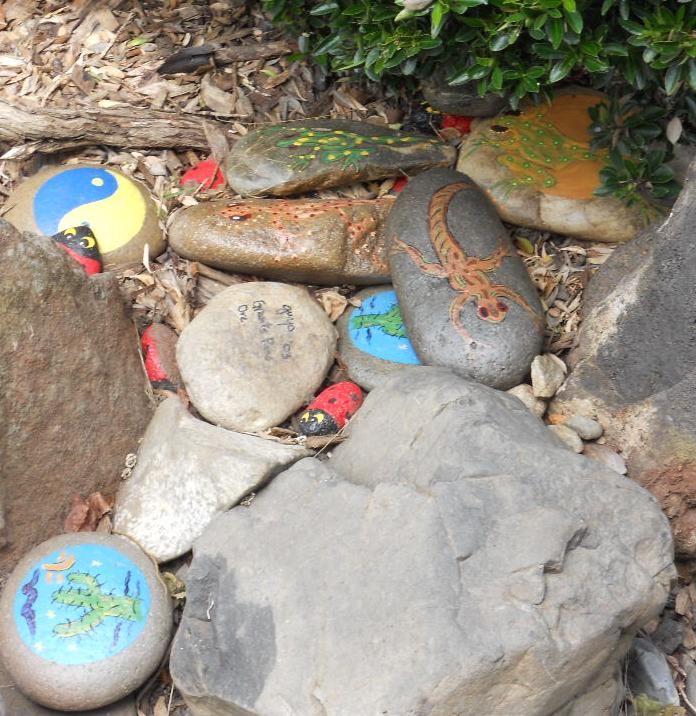 Jordan is an artist who holds creative workshops each week in her art studio. She allows neighbors and friends to come and create in the studio. Many beautiful art pieces have made their way out of this large basement art room, including work Jordan has done herself. She added numerous pieces of art to her garden area.
Jordan has a white picket fence around the front and left side of her home, which is surrounded by floral designs and cacti, jade plants, and aloe vera, all inviting visitors into her garden. Throughout the front garden areas, she has placed painted rocks, created by a friend that visits the art studio.
Lizards leap out at you from the painted rocks. A cactus standing in the hot sun takes you to a desert, all painted among the large regular rocks through the garden.
A yin-yang symbol is etched with a paintbrush on another rock, giving the feel of balance to the site with each delicate brush stroke. Pieces of gemstones and crystals lay among the daisies, capturing the sunlight and the garden visitor's eye.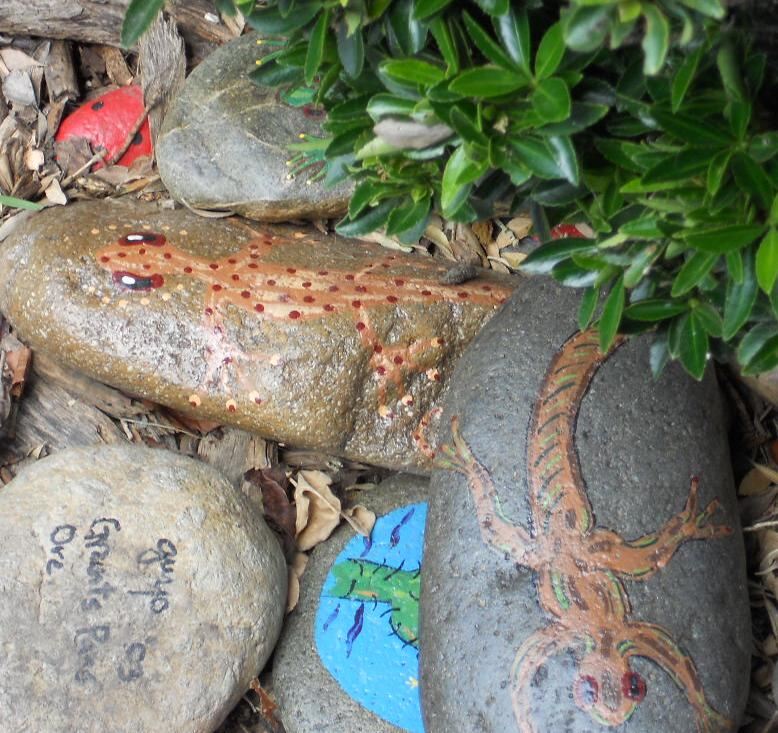 Planters hang along her porch, with cut pieces of chandelier glass dangling on the bottoms, catching the sun and throwing light around the garden area. Small pieces of turquoise lay on the ground in between flowering plants, adding splashes of blue-green throughout. This simple yet elegant idea can add shimmering bits of light and color to your garden area as well.
The front porch area also boasts a beautiful set of chimes, made from forks, knives, and spoons found at a second-hand store and hung by line. Inside the silverware, the circle is a piece of metal that moves back and forth each time the wind blows. The metal clangs on the silverware pieces, each one with its own unique soft sound.
Jordan's Backyard Meditation Garden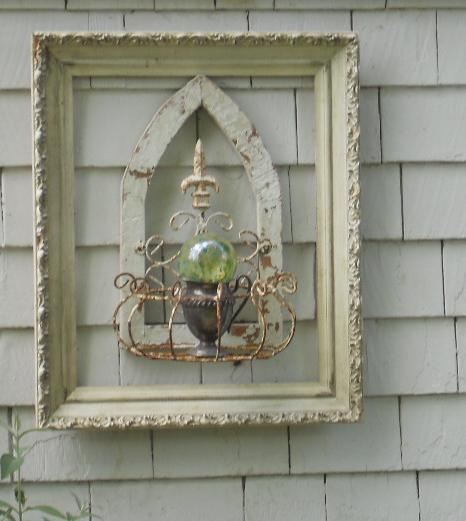 Traveling to the backyard, you are taken to a serene, shady grass area that gives a break from the warm California sun. The trees reach out to the sky, blocking you into tranquil green landscaping, filled with flowers, statues, artwork, crystals, and gemstones.
Above one section of a garden area along Jordan's home sits an antiqued frame. The frame is painted a subtle white color, with just a hint of melon green. Inside the frame, Jordan created a piece of art by purchasing a greenish glass sphere. She held the sphere inside the frame with an antiqued brass holder.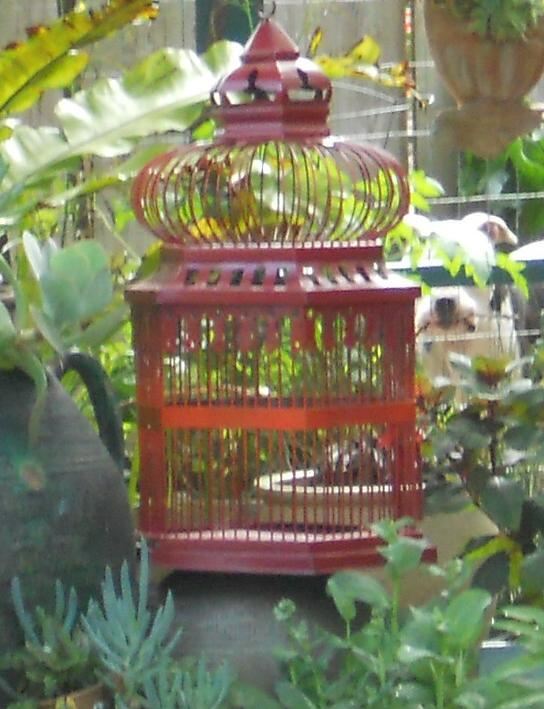 Walking around the various garden spaces, you find a large birdcage Jordan found at a second-hand store. She painted the cage a bold fire engine red that stands out among the colors surrounding it. Jordan set the cage on top of a greyish-white planter to lift it above the other planters in the spot.
The cage stands out, however, it blends well in the section she has placed it. The paint on the cage is not only the correct color choice but each stroke was carefully manipulated to create a perfect finished art piece. This is a simple idea to make your artwork stand out in your garden.
In between a bottle-brush tree and a few palm trees, Jordan has a marble-top table. A frog that sits in the lotus position is meditating in the center, amongst various angels that hang either on the fence or a couple is laid on the table itself.
Candle holders line the front of the tabletop, holding small pillar candles. Along the edges of the tabletop dangle more chandelier crystals, picking up the sunlight of the morning to throw bits of light and color across the garden and yard area.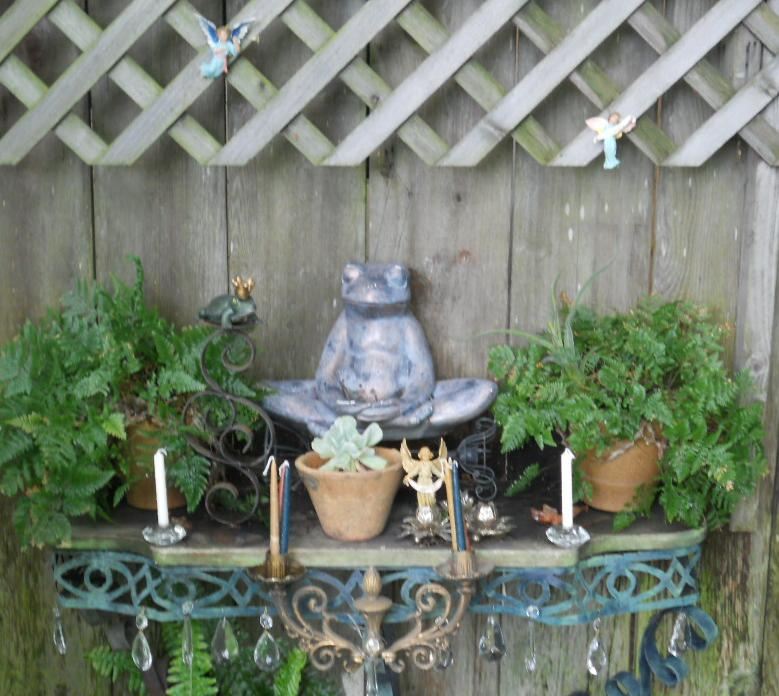 Two ferns sit on either side of the frog in the center. Angels that Jordan has hand painted are connected to the fence, peering down on the meditative state of the hand-painted frog.
A smaller frog looks across the table as well, complete with a gold crown, boasting his prince hood. Jordan chose the pieces from a local second-hand store and chose to paint some ceramic frogs and angels to finish out the artful area.
Planters sit everywhere, peeking out among the plants and shrubs, or sit in the middle of the yard itself. One very large planter greets visitors on the edge of her stone patio pathway, overflowing with lavender and curly pieces of the branch she added to give it more of an artful look. The smaller planters have plants that are accompanied by gemstones and crystals.
Along the small cottage-style guesthouse, Jordan has built two flower boxes to frame the bottoms of the windows. Inside, she has carefully positioned tiny cacti-type plants, jade starts, and small hen and chick started. Among these miniature choices, she has laid more crystals, painted rocks, tiny statues, and various miniatures that keep the eyes entertained.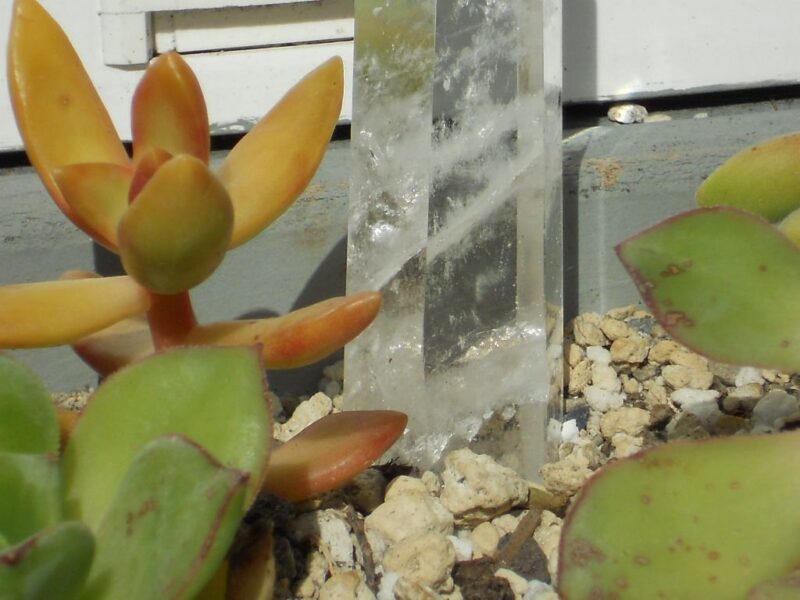 Statues of Saint Christopher and Mother Mary peek out from among the taller palm-like plants. Everything in Jordan's garden is chosen carefully, painted with love and care, and placed accordingly.
The artwork throughout her meditation garden truly creates a carefree, peaceful, serene ambiance. They are produced with an overwhelming abundance of Jordan's creativity, know-how, and energy. Adding your own artwork to your meditation garden can be easy to do and give you your own serene place to relax.
Jordan's Suggestions for Adding Artwork to Meditation Gardens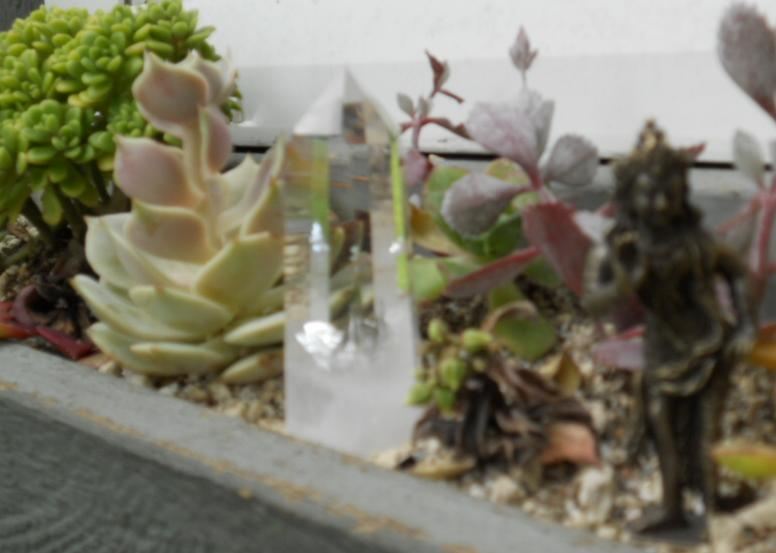 Jordan believes everyone is an artist. Allow yourself to let go and create. The same principle can be used in artfully decorating your garden. It is important to make your meditation garden your space. Adding crystals and stones you like is a wonderful way to fill up those empty spaces, but making your own meditation garden art is just as important!
Suggestions from Jordan are to find regular stones and paint them. Decorate ordinary stones and turn them into designs you will enjoy in your meditation garden for years to come.
Use colors that you feel are important to your own space. Simple designs such as ladybugs are a popular way to bring additional life to the garden. All of the artwork you create and put energy into are important aspects of designing your own meditation garden.
Shop for smaller statues and trinkets, such as old jars and watering cans. Paint the watering can, add soil and flowers to make a planter that sits well in any garden. Old jars can be filled with rocks, shells, beans, and even artificial flowers or plants. The small statues and trinkets can be painted and placed throughout the garden.
Shop in dollar stores. These are an artist's dream come true. Decorate with items you can find in the store. Often, you can locate some artificial flowers, pieces of craft foam, glue, wooden numbers and letters, rocks, glass stones, vases, candle holders, and various tiny statues. It will amaze you at the placement of one item and what a difference it can make in creating a space that is great as a meditation spot!
Often dollar stores will have gardening items. While they are sometimes cheaply made, they may rust in the weather of the outdoors. This is okay as well. Jordan highly recommends the combination of nature and natural designs in your artwork – including the antique look of a rusted watering can.
She placed a Buddha head in the garden area and with weathering, it came out tarnished and green – adding character and "life" to the piece.
Your artwork will enhance an already beautiful garden. The key is to blend aspects of art and nature.
Be Creative and Shop Smart!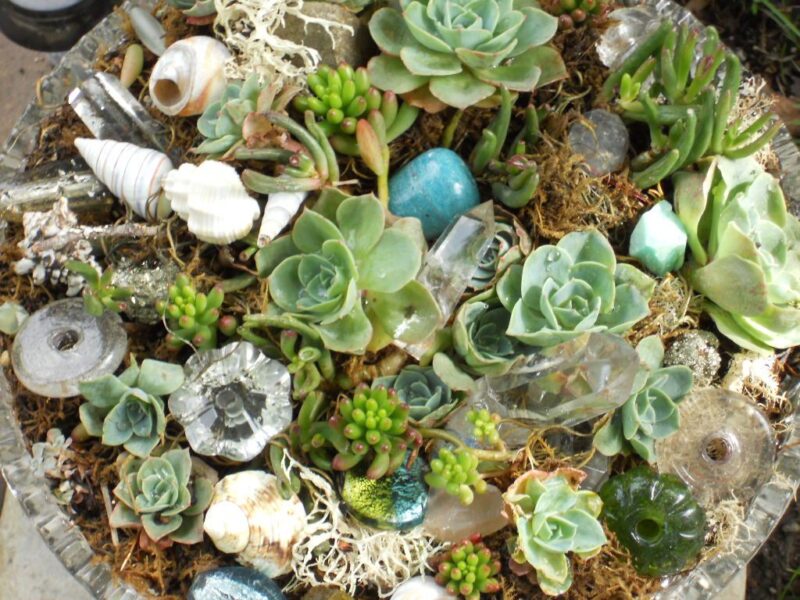 Shop at second-hand stores. The artwork you create doesn't need to be expensive. Go through the aisles at any Goodwill or St. Vincent De Paul's to locate bits and pieces you can combine together to create a beautiful piece of art for your garden.
Window frames can be painted to look antique and are a nice addition to the garden. If you have a wood fence around your yard, cut a hole the size you would need to add the frame and artwork you have created. The frame and art will stand out against the fence coloring, to give your home and garden a splash of artistic beauty and color.
Any natural elements such as stones, rocks, wood, and branches can be used to design art for your garden area. Statues relating to your personal spiritual beliefs can peer out from various bushes and flowers that fill your garden. Jordan added a few statues, some playful and fun, some a bit more serious; all add her special touch to a particular spot.
Crafted birdhouses add a nice personal touch to the meditation garden. Laying gemstones and crystals in certain areas adds a mosaic look to your flower beds and planters alike. Planters filled with flowers can be used to hold various items from craft stores or second-hand stores. This adds design to your garden as well.
Jordan uses her artful eye and steady hands to produce an intensely serene, calm, meditative area throughout her whole yard. You can create the same effect by adding your own art; pieces you put together that cost little but your creativity. Flowers, shrubs, and planters stand out, but the eye is drawn to the colorful artwork that blends nicely with the flowering beauty.
Jordan's Garden Tour