What are the best ideas for playroom storage? In this article, I'll share some of my favorite storage tips & ideas for kids rooms and I'll discuss & review some of the most helpful products.
Kids Playroom Storage 101: Ideas That Work in My Home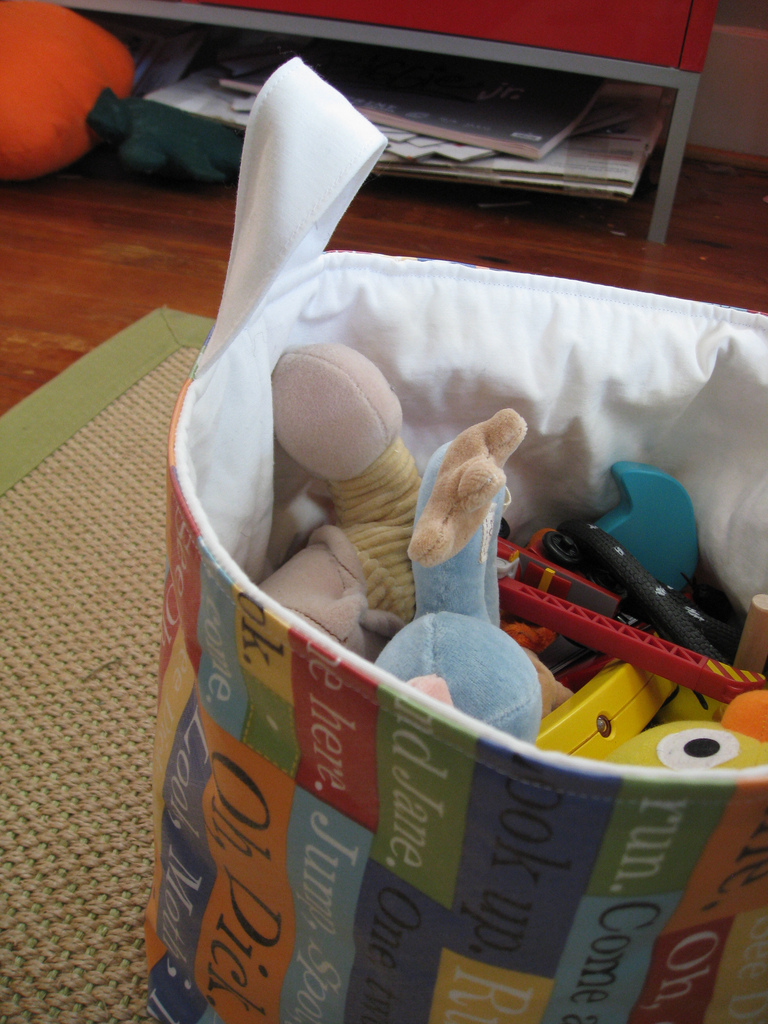 Having a great playroom is an asset to any family home. But storage in the playroom can be a challenge. With kids come toys, craft supplies, books, and plenty of teeny tiny pieces of things. Many families now live in compact homes, which makes storage even more important. In order to make the room enjoyable for kids and parents alike, it's essential to have some solid playroom storage ideas in place.
But which storage ideas really work in the playroom? Even in the largest space, many typical kids' storage items turn out to be impractical and frustrating for children, resulting in messes rather than orders.
A great example is the classic toy box; it works for a few larger items, but once the kids have 'tidied' by tossing in every toy under the sun, the toy box becomes a cavernous pit that gobbles toys into its depths. Difficult for a young child to access, and nearly impossible to keep organized, the toy box is in fact not a useful storage piece for young children's toys.
In this article, I'll share with you the best types of playroom storage ideas, based on what has worked for my family. I have found that if the kids can clean up easily, it is easy to get them to clean up.
Keeping our playroom in order helps everyone's sanity, and assures that it is a space my kids like to be in – and that I like to be in with them.
These are ideal solutions for the main challenges of playroom storage – art supplies, toys in general, books, and artwork, and I hope they're as helpful for your home as they have been to mine.
Easy Playroom Storage Ideas
Store game pieces or toy sets in canvas bags labeled and hung from hooks on the wall
Don't be afraid to ditch the original packaging of games, puzzles, and play sets – store them instead in clear, lidded boxes that can easily be labeled and stacked
Use baskets for easy storage of bulky items such as stuffed animals, balls, and dump trucks
Don't forget to label things so your kids can easily see what belongs where, and…
If you have pre-readers in your family, add pictures to the labels as well
Consider rotating toys and games – having fewer options will make it easier for your children to focus on play, and easier to clean up – and will also make for excitement when toys seem new again after being out of the rotation for a month or two.
Playroom Storage Idea #1: Get The Kids' Art Supplies Under Control
The playroom is the ideal space for arts and crafts. That said, art supplies can often be difficult to keep organized. Especially for young children, you want an easy storage solution for playroom supplies such as crayons, scissors, pencil crayons, and glue.
Personally, I have found that if my children have access to art supplies, they make art. The key is this: provide the kids with easy access to craft supplies and paper, but limit the quantity – put out 20 crayons as opposed to all 500, for example. This way the kids have the freedom to be creative, but won't be too overwhelmed to clean up.
This simple storage unit by Boon fulfills this need very well. Fun in form and fantastic in function, it can be mounted on the wall or set on a tabletop and has plenty of compartments to separate all those little artists' essentials. Set it in the middle of your kids' creative zone, and it makes for attractive and functional storage. Perfect.
Idea #2: Shelving With Dividers: Better Than Bookcase Storage in the Playroom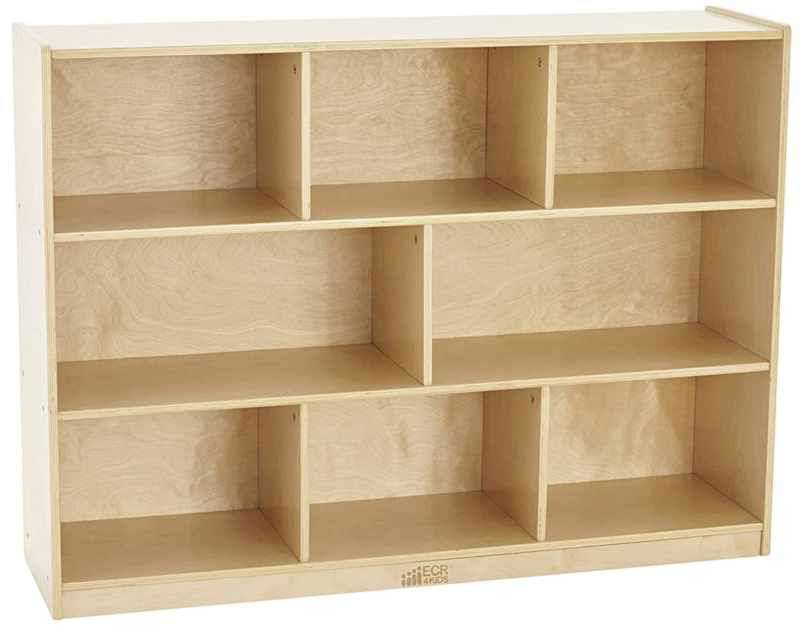 In a room with many toys of all types, it's essential to use vertical space. Getting the toys off the floor and into organized shelving is a must. Always beware that the furniture you select for the playroom isn't too tall and overwhelming, and ideally you want natural materials whenever possible.
Natural, light-colored wood is a great idea for kids' playroom storage because it allows the toys to shine – putting the focus on the play, not the furniture.
This storage cabinet is a great example; it's neither too tall nor too deep, making it an ideal choice for the playroom – yet also a piece you can repurpose elsewhere in your home in the future.
Larger toys can hold their own on these shelves, while smaller items can be corralled into bins, boxes, or baskets. The layout and function of this piece are ideal – and it's beautiful. Overall, it's a perfect playroom piece that offers what you need: storage!
Idea # 3: Kids Storage Bins for Playroom Function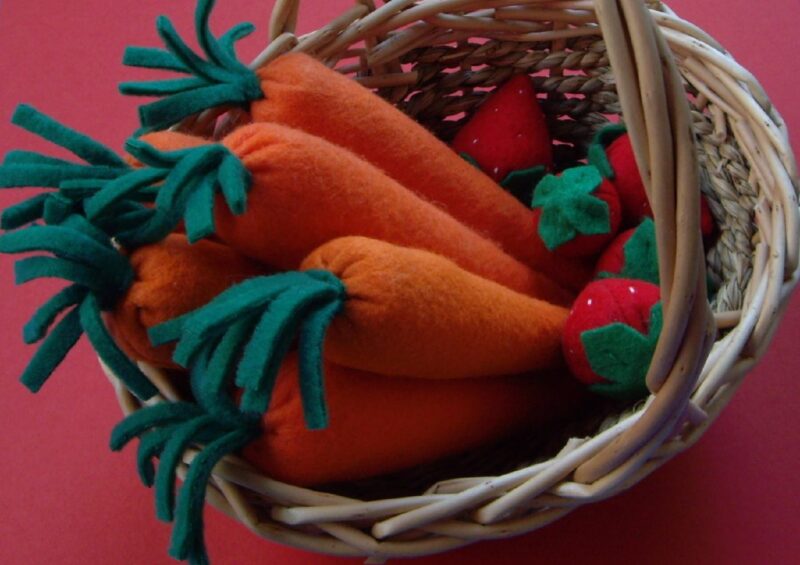 Where there's shelving, there must be bins – in order to keep the many small items under control. Foldable storage bins are easy to come by, but not all are designed to fit the needs of small children. For the playroom, you'll want to choose bins that are easy for your kids to maneuver; it's also helpful to source them into particular colors for certain items.
These bins by River Ridge are perfect – offering handles so your child can easily move them around. They come in a wide range of colors, so you could easily color-code your toy storage, and hanging a label from the handle is easy. Once your children know the system, this idea for playroom storage will save you hours of picking up (or stepping on) tiny pieces.
Idea #4: Get Books Under Control; Smart Playroom Storage Ideas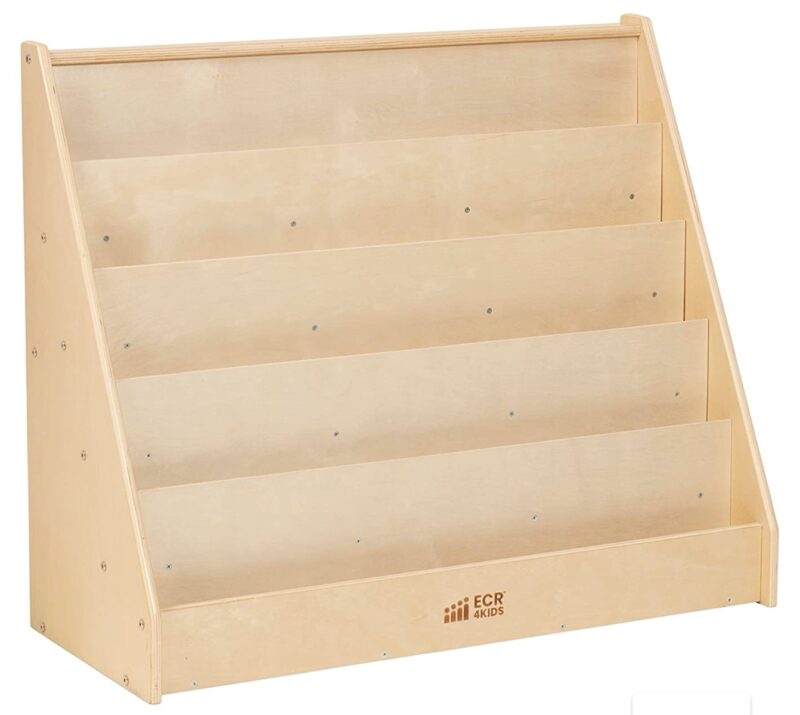 Books are such a crucial component of childhood. A child who grows up with books will always appreciate them. In our home, books are cherished and we have a large collection of favorites.
Storing them in a bookcase works, but never seems to do justice to the beautiful artwork and titles on the covers. Plus, my kids have a harder time selecting the book they want based on the spines.
Luckily, schools and libraries have long had ideas for this issue, and there's a perfect storage solution adapted for the playroom: The book rack, which essentially offers shelves with space to display books with the covers facing out.
This high-quality unit by ECR4Kids is an ideal example – made of beautiful birch wood, this can hold a large number of books yet keep each one visible to your children. It looks beautiful and would fit nicely into any home. Best of all, a rack like this makes cleaning up a pile of books so much easier for your child.
Set it up next to a few comfortable child-sized chairs, or a larger armchair to accommodate a grownup and a kid or two – and you're set for many a cozy afternoon of reading.
Idea #5: Give Your Little Picasso the Spotlight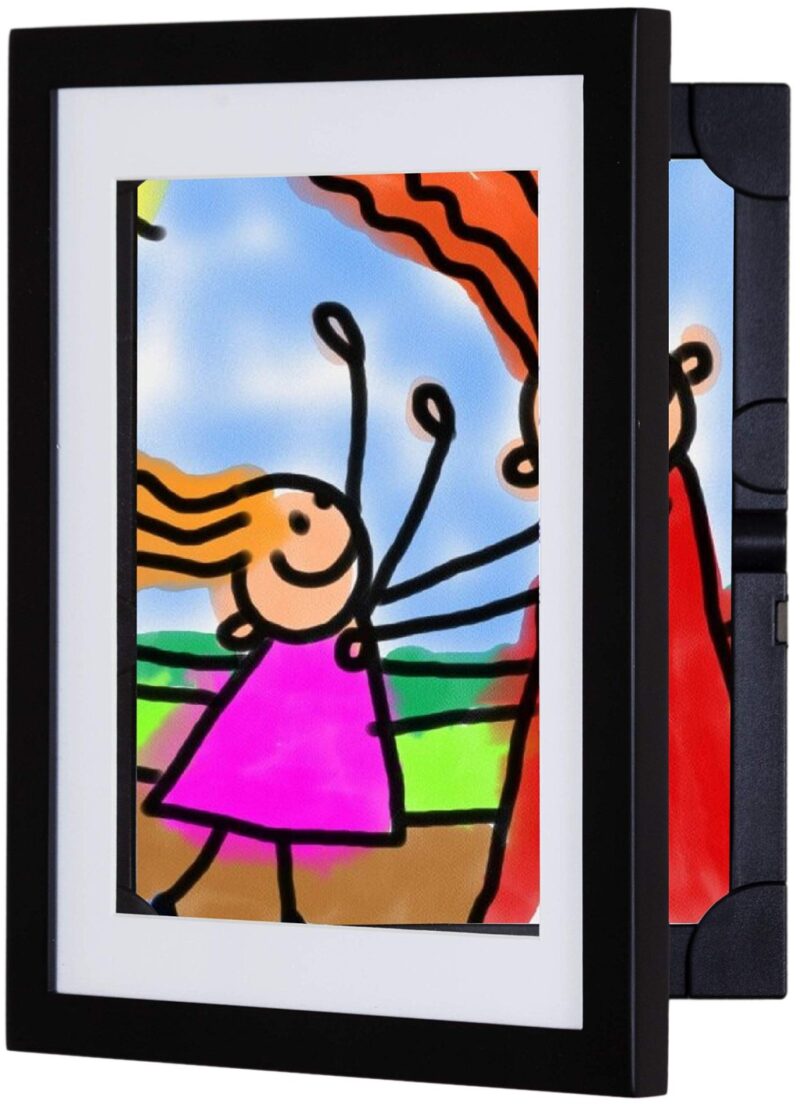 We all want to encourage our children to be creative, and one way to make it easy is by offering a space to make art and experiment with color, shape, and form. This will likely result in copious production of 'art', and few things are as precious as the artwork of a young child.
Likewise, nothing makes your child prouder than to see his artwork displayed for all to see. Of course, you can simply use a bulletin board and tack up their creations, which will do the trick, and is easy to switch up, but results in pin-holes in your art collection, and can become a jumbled mess very quickly.
The ultimate way to honor your kid's production is to frame it like real grownup art. There's just one challenge with this idea: when there are so many masterpieces to choose from, and more coming every week, it can be challenging to choose which one to frame, right?
The perfect solution is to grab an art cabinet like this by Lil Davinci. This is a really clever design that allows you to display the current artwork while storing last week's favorite behind.
Displaying pieces like this allows you to take control of your playroom storage while making sure your little artist's best work is preserved, and on the wall, for everyone to enjoy.
These frames are offered in different sizes and can be hung vertically or horizontally; a gallery of several would be a great way to showcase a family's work in the playroom. Try it and see the pride on your children's faces – and the smile on your own face each time you walk by it.
Final Kids Playroom Storage Thoughts & Ideas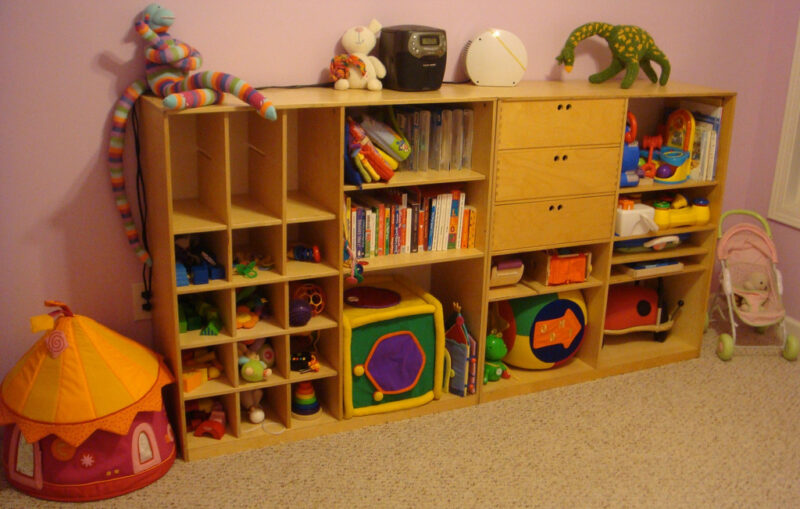 Whatever solutions you choose, don't forget to secure your furniture to the wall. This simple step is crucial to protecting your children from furniture toppling over either from your little one climbing on and pulling them over or because of an earthquake.
No matter how secure or low the piece is, it's always better to be safe than sorry – and securing things to the wall is neither time-consuming nor expensive.
Playroom storage ideas are not hard to come by, but not all are created equal. I hope these pieces give you ideas to help get your kids' room under control, once and for all… and I'd love to hear about any unique solutions that have worked for you!