Hurricanes can produce deadly inland flooding. Know how to stay safe when the water rises & warn others how floodwater and flash floods can claim lives.
Hurricane victims face months of cleanup from damaging winds and flooding. Debris must be hauled away; roads have to be repaired and bridges may have to be rebuilt.
Such was the case with Hurricane Irene (August 2011) which ripped the U.S. eastern seaboard from North Carolina to Maine. Many residents were caught off-guard because the storm lasted so long and because it roared through states that had rarely seen hurricane activity.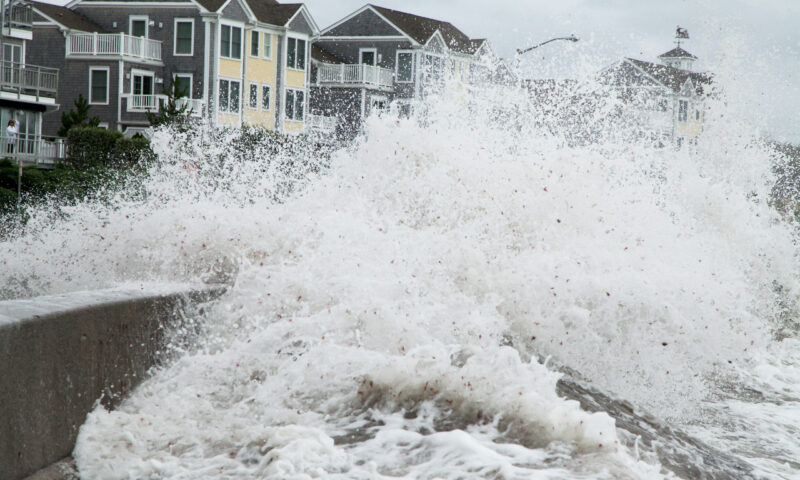 Residents were overwhelmed by flash flooding that caused creeks and rivers to rise and spill into neighborhoods and business districts. People didn't know what to do as the water rose as much as two feet in just a few short hours in some places.
Do you know how to stay safe when a hurricane causes dangerous flooding? Read on for safety tips and to learn the various ways floods can claim lives.
What to Do When a Hurricane Causes Flooding
The intensity of Hurricane Irene weakened from a category 3 major hurricane to a strong category 1 shortly after making landfall. Despite the downgrade, the system still packed an enormous amount of rain.
When a major hurricane is in the forecast, everyone in the hurricane watch area should prepare to evacuate. Ignore the order to leave and you may end up having to be rescued. Flooding can occur unexpectedly and can happen in places that were thought to be safe from such a disaster.
Tips On How to Stay Safe When A Hurricane Causes Flooding:
Stay clear of flooded areas. After the storm passes, do not wade through standing water to assess damages.
Steers clear of decks and porches even if water hasn't covered them; structure foundations may have been damaged.
Downed power lines close to the water may still be live. Remain in your home to avoid getting electrocuted.
Never try to drive through flooded areas. Your vehicle can be swept away in a fast-moving current, even if the water isn't deep.
If you did evacuate, then don't return home until authorities from your emergency management team (or similar) say it is safe to do so.
Assess the safety of your home before you enter. Water damage may have rendered the building structurally unsafe.
Here Are A Few More Safety Precautions for Flooded Homes:
Turn off your home's power at the source even if the neighborhood is still without power. Once service is restored, don't switch your breakers on until the home is inspected and deemed safe by a qualified electrician. Don't use electrical tools for repairs until everything – including the floor – is completely dry.
Open windows to let air circulate. Dampness and humidity can cause dangerous Mold that can lead to respiratory illness.
Follow instructions in your area for boiling water before drinking.
Expect septic waste to back up into your home when toilets are flushed if the property is flooded, and you have a septic tank. This can be a dangerous health hazard.
Take photos to record the damage to your home and the items destroyed. Don't haul away destroyed belongings yet because your insurance adjuster will need to see furniture, appliances, and other home items for his report.
Remove all perishable foods as well as any foods not in waterproof packaging.
Wear protective gear – water-resistant gloves, boots, and eyewear – when moving items and cleaning.
Drowning Is Just One of Many Ways People Can Die in Floods
People who try to escape their cars in rushing flood waters risk drowning. Unfortunately, too many heroes have died trying to rescue flood victims that chose not to evacuate. What are some of the ways a person can lose his life or suffer serious injury in a flood?
Drowning from not knowing or ignoring the danger associated with flash floods.
Driving in flood conditions where pavement might have collapsed and washed away in swift currents.
Electrocution from downed power lines in the water.
Injury or death resulting from a collapsed building damaged by flood water.
Failing to heed a mandatory evacuation order and getting stranded and/or swept away by a strong current.
Serious injury or death from being slammed into debris in a raging flood current.
Caught in dangerous flood waters while trying to rescue a family member, pet, or belongings.
Drowning from trying to rescue a stranger.
Never Ignore an Order to Evacuate for a Hurricane
Irene will long be remembered for the unrelenting floods that demolished or swept away entire communities.
Dubbed as "the storm of the century", Hurricane Irene has so far claimed more than 40 lives. As of this writing the number of fatalities is still rising as bodies are recovered from heavily damaged homes and receding flood waters.
Hurricanes can produce deadly winds, rain, tornadoes, storm surge, and inland flooding. In spite of repeated warnings, too many people still ignore evacuation orders. U.S. residents need to understand that no two hurricanes are alike, and that "waiting to see what happens" can result in loss of life, including the lives of rescuers.
Hurricane Irene was a massive storm that covered hundreds of square miles. Flood damage in some states – Vermont, and some parts of New Jersey, for example – was both unexpected and catastrophic.
Know how to stay safe should you suddenly be caught in a flash flood or are experiencing excessive flooding in your area after a hurricane. Educate your children on how people can accidentally die in flood water even after the storm is long gone.
Set an example by doing everything possible to prevent a natural disaster from taking away those that you love. The smartest move you can make is the evacuation trip to a safe place.