The average garden is usually designed for a measure of the show, but more insightful gardeners will always carve out a portion of the garden for themselves, a place for them to stop and relax, to escape from the world and hide out in their own secret spaces.
Have you ever walked through a magical garden and happened across a cozy, personal nook that invites you to sit down and enjoy a pause? The average garden is designed for a measure of show and acknowledgment by the rest of the world, but more insightful gardeners will always carve out a portion of the garden for themselves, a place for them to stop and relax, to escape from the world and hide out in their own secret spaces.
If you have an unused nook or cranny in your yard that's a little uninviting or hard to get to, or a mature, overgrown part of the yard that's long been forsaken, why not take a detour from the flash and glitz of your gardens and fashion a personal space for you alone to enjoy?
Whether it's a quiet place to read a book, meditate and relax, a venue to commune with the wonders of nature, or a hideaway in which to retreat from the hustle and bustle of daily life, every gardener should have a part of their garden dedicated to themselves and no one else. After all, you deserve it!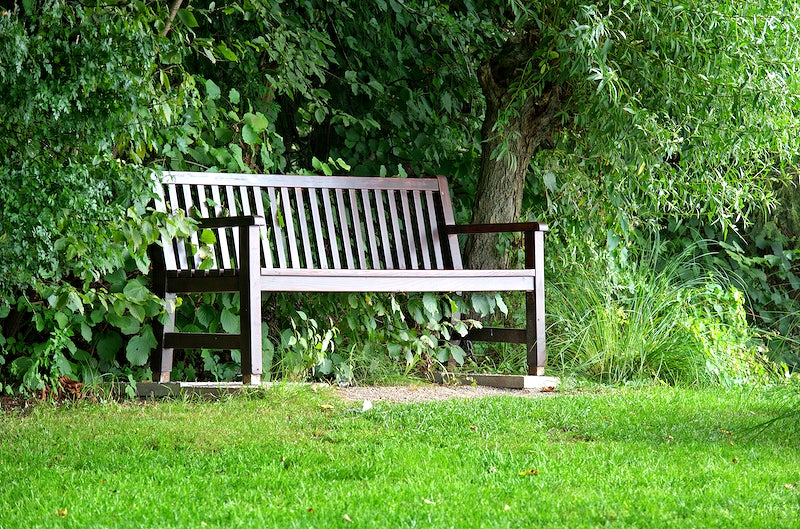 It's actually not that difficult to accomplish, no matter what state your landscape is in. As with all landscaping concerns, the secrets to creating an inspirational private corner lie in knowledge and the application of some basic design principles. Follow these, and you'll be retreating to your own garden sanctuary in no time!
Getting Intimate With Your Spaces
The first thing you need to do is identify the right space in your yard for your private getaway. Luckily, it's usually the most difficult locations that make the best candidates for conversion; an unused corner of the yard, a tight space behind a shed, or a dense brush beneath a mature tree where all appeared lost and forlorn. You're actually looking for a space that's relatively inaccessible to your admiring guests, well sequestered from the rest of your pomp and gardens.
The ideal location should elicit feelings of enclosure and isolation in you, without being claustrophobic or dank. It needs enclosing walls on at least three sides, plus some form of the canopy above to complete the sense of enclosure and shelter.
It's important that it be primarily natural in composition, with plant growth and natural materials comprising the bulk of the walls and ceiling; too many man-made walls or structures will make it feel cold and uninviting.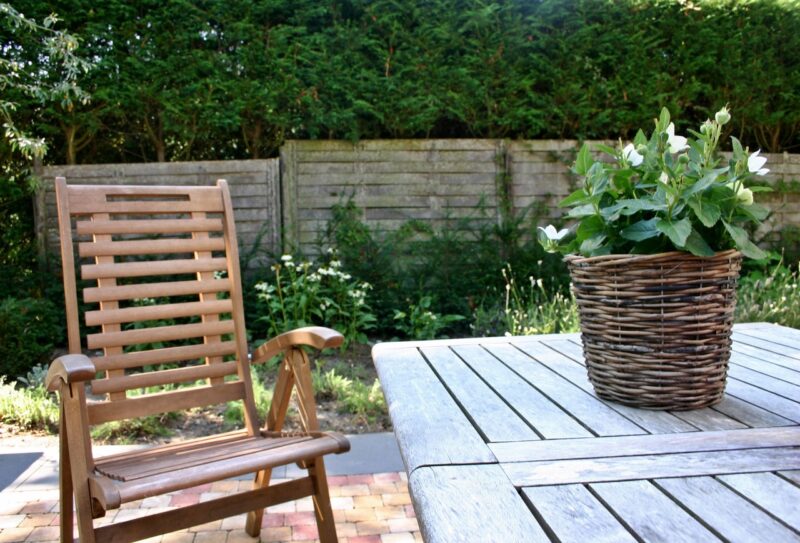 Scale is very important. Envision your inspirational nook in the context of a single person, maybe two at the most; you specifically want it to feel crowded if more than two people are present. Unlike the rest of your garden paradise, your private place should disrupt and terminate traffic flow rather than facilitate it. Think of it like an alcove, an eddy out of the normal flow of traffic that welcomes a person to stop.
The canopy is probably the most important framing element of your private sanctuary. It strongly reinforces the feeling of enclosure and affirms the sense of the scale of the space as a whole, so it needs to be just right. It generally controls the lighting in the space. Use a canopy that facilitates filtered shade; too much light will compromise the intimacy of the space, while too little light will make it feel like a dungeon.
Planting for Privacy
Plants are a fundamental component of your inspirational space. They surround and fill it with life, yet they are serene and generally motionless, which supports the desired ambiance. Plants infuse space with nature, putting us at arm's length from humankind and its associated hustle and bustle. And plants can engage so many of our senses, with their diverse colors, textures, and fragrances.
Begin by taking an inventory of the space. Keep existing plants where they serve the purpose; mature trees that arch overhead, dense shrubs that provide enclosure, and selected accents that maintain subtle interest.
You want to instill a perception of age and permanence into the space, even a degree of overgrowth such that the plants almost loom larger than you in the balance of things. Where the existing plants don't support this aesthetic, remove them.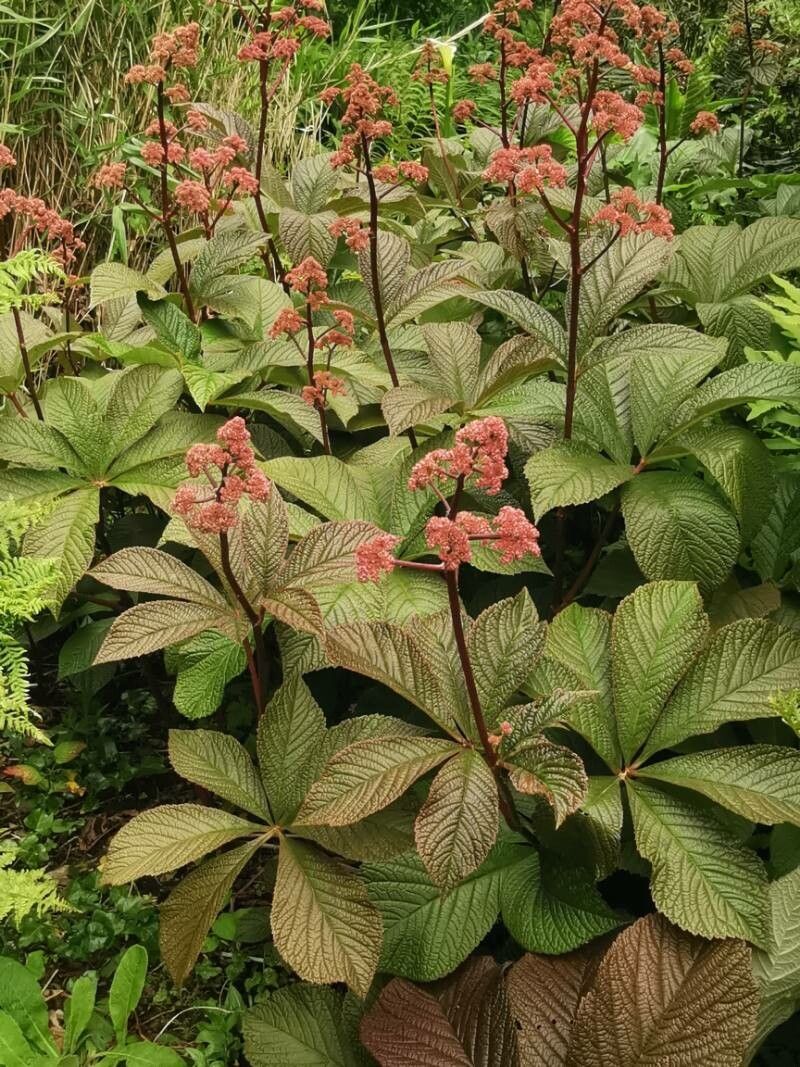 The plant selection criteria are notably different from those of display gardens. Here you are looking for plants with density, contrasting textures, fragrant leaves and flowers, and subtle interplays of color. They also have to perform in shade, which opens up your palette to ferns, azaleas, hostas and natural understory shrubs like dogwood and viburnums.
Don't invest too much effort into flowers; besides not doing well in shade, their garish colors may detract from the serenity of the space. Use vines to cover harsh walls and man-made structures; where hardy you can plant flowering vines like wisteria or trumpet vine to cover an arbor, and ivy, creeper, or euonymus to trail along the ground.
From a garden perspective, create depth and enhance the sense of enclosure with different heights of plants. Arrange them to slope inwards towards the personal space from all sides. Ideally, you would have tree branches arching in and over from all sides, with a contiguous border of dense shrubs serving as the backdrop underneath.
Moving closer in, taller shrubs and perennials would give way to shorter perennials that nuzzle right up to your seating element. Where possible, bring branches, leaves, and even entire plants right up to your resting space at eye level, both sitting and standing, to reinforce the sense that you are fully immersed in nature.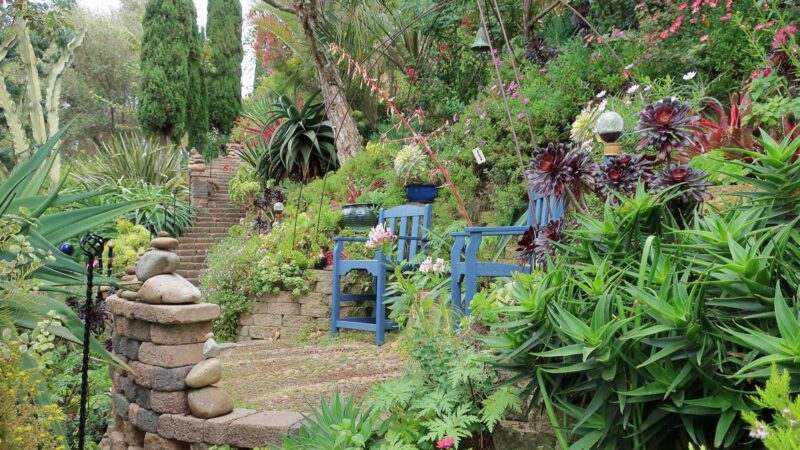 The Role of Hardscaping
While plants will form the backbone of the space, there are clear roles for hardscaping elements. The first is in support of the canopy role; where the enclosure of mature trees is not an option, a "softscaping" element like an arbor or pergola can serve the function of a ceiling very well.
Besides offering a canopy of a natural material, an arbor or pergola will support rapidly growing vines like creepers and grapes which will provide a quick living roof over your intimate space.
Likewise, give consideration to the "floor" of the space. It should ideally be constructed of natural or organic material to support the aesthetic. Rock makes a wonderful surface, whether in the form of natural flagstones, patio stones, or a layer of decorative gravel.
In general, the more manufactured or patterned the material, the less intimate the space will feel. Organic materials such as bark mulch are a fine choice but will need to be replenished every few years as they decay into the soil.
Since no space is ideal, and you're probably working with a derelict space, to begin with, plants may not be a straightforward option for all the walls. This is where containers, decorative pots, and hanging baskets play an important role. Like portable gardens, they can be positioned to bring life and detail into almost any part of the enclosure, and at any height.
Enhance interest with different combinations of heights and styles of containers. Hanging baskets can support the illusion of enclosure by lifting plant life into the vertical dimension. The containers themselves can further set the tone of the space; older, more antiquated porcelain or glazed pots with natural cracks and visible weathering will reinforce a sense of age and endurance.
Use hardscaping to introduce subtle detail into the space, without overwhelming it. Place one or two figurines or garden artifacts here and there, both in and out of primary view, to focus the wandering eye and reward our innate curiosity when we choose to look deeper.
Hardscaping can also play on textures in juxtaposition to the plants. For example, the tranquility of still waters is offset by the dynamics of lush plant life. You may choose to incorporate a small pond into the private garden, or where space is at a premium, simulate a pond with a strategically placed birdbath or container water garden.
---
---
The Human Dimension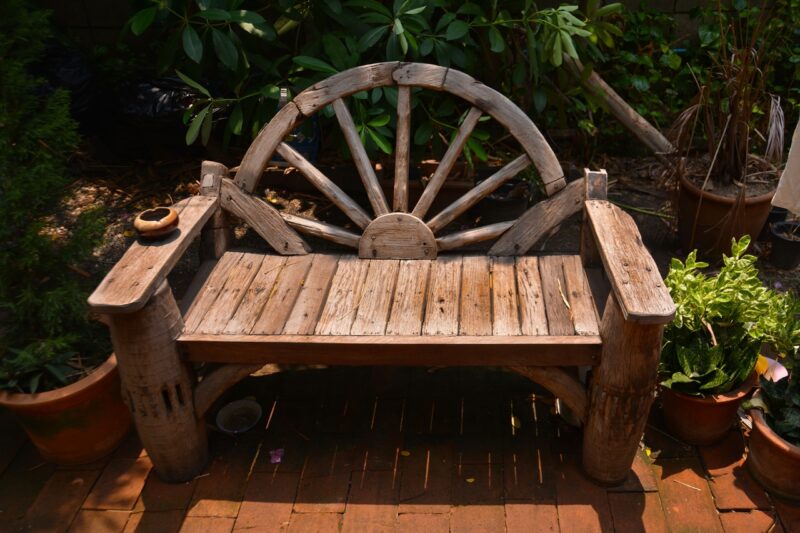 Above all, the most effective and inspirational private spaces both work and play well with our uniquely human traits and experiences. From a practical perspective, access to the private space must be functional and clearly delineated.
Not only will this make it apparent that this space is inviting to a person, but it will serve to emphasize the termination within the space where the traffic way comes to a decisive end. You want this space to look and feel like a destination as you've arrived and this is now where you belong, and a traffic way with a definitive end will accomplish this.
It may seem obvious, but don't overlook the value of the seating element itself. It serves so many important roles in your creation. It must be enduringly comfortable to encourage you to sit or lie down and spend time in the space. It must visually work with the aesthetic, complementing the plants and hardscaping in your composition.
It must serve the role of the destination itself, the unmistakable target of the journey into this private space. It should accommodate the desired use; a place to read, a place to sit and watch nature, or a place to lie down and nap under the shade.
Don't fall into the trap of buying the first park bench you see at the garden store; let your imagination run free. There are so many options from which to personalize this element; wood, metal, or stone benches, swings, dinette sets, hammocks, wicker outdoor furnishings – the list is endless. Of all the elements in your space, this one deserves the greatest investment in terms of both money and selection, so don't skimp.
Create the space so that it plays on our natural human curiosity. If possible, don't make the space accessible from the rest of the yard in a straight line; wind the path into this space so that it disappears around a dense shrub, garden, or structure. Conceal it from the "public" view so that it is mysterious to those on the outside, while sheltered for the soul on the inside.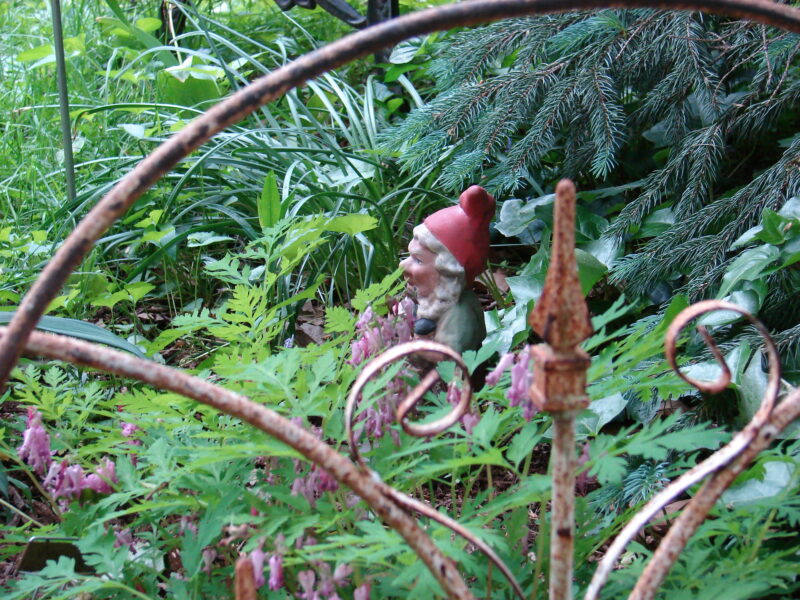 Inspiration is fed by its surroundings, so be as whimsical as you like. Make an effort to permeate your space with a little magic or myth to help set the ambient mood.
Find a place for a garden gnome, pixie, or nymph. Use plants associated with mythology or with medicinal histories. Personalize the space with plants or artifacts that have personal meaning or value to you; an old heirloom from your grandmother's garden, a toy from a long-gone pet, or a bauble from your childhood. It doesn't matter that they won't mean anything to anyone else; this is your space, not theirs!